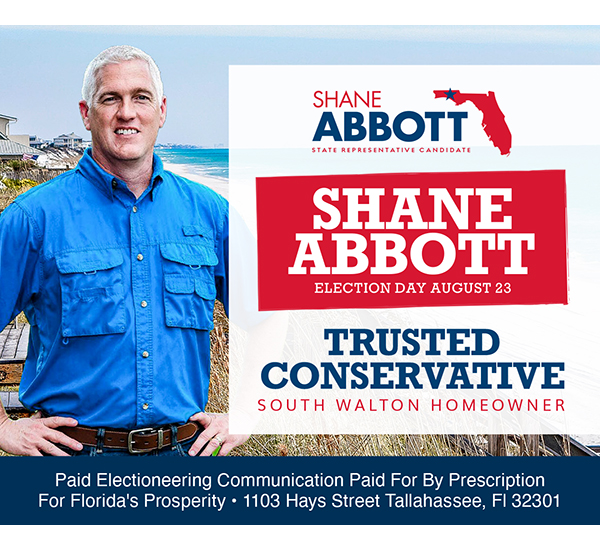 By Lori Smith, Publisher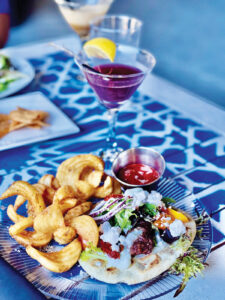 Who would have thought our area's only fully plant-based, hidden gem nestled off the road next to a quiet neighborhood in Santa Rosa Beach would be bursting at the seams with flavor (and a chill atmosphere with a calm vibe to get lost in)!
Not your ordinary fare, the new Oasis restaurant aims to highlight the delicious diversity and abundance of plants with menu items that include overstuffed sandwiches, cheesy buffalo spinach dip, loaded burgers and a Chocolate Espresso Martini for dessert. Here, you're not missing a thing with this new kind of dining experience crafted with gourmet, plant-based comfort food.
We couldn't wait to bite into our lunch which did not disappoint. I had to ask if the Moroccan Spiced Burger was really plant-based as you can't tell. Owner Amy Sievers says it's a blend of their own compilation of spices, lentils and other fare that give it the consistency and amazing flavor! Well, it passed my taste bud test!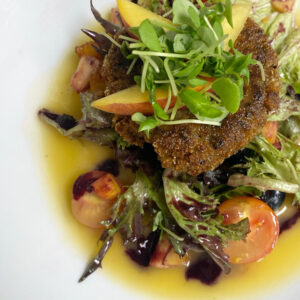 The breakfast burger is also a BIG hit with locals. It's a perfectly seasoned, plant-based burger topped with an egg patty, leaf lettuce, tomato, avocado and served with home fried potatoes. A dinner specialty is shepherd's pie with garlic butter toast and roasted Brussels sprouts. And don't forget the Burnt Chocolate Cream for dessert! With a daily rotating menu, other recommended items include Berry Spinach and Mixed Greens Goat Cheese, Buffalo Tender Wrap, Fried Oyster Mushroom Gyro or Kefta Kabob Gyro (personal favorite), Mediterranean Bowl, eggplant lasagna, lentil meatless loaf and Trumpet Scallops Over Angel Hair Pasta—some familiar 100% vegan dishes; some not. For an appetizer, the Eggplant Fries looked really great at the table next to us! We will be trying those next time for sure!
Amy, also a photographer and artist, says the Oasis is a place for the entire family—vegan, lactose intolerant, nut intolerant, etc. There's an item on the menu for each member to be able to eat and enjoy a meal together. "I wanted to create a space of connection where vegans AND non-vegans could have a food experience to remember," says Amy on Facebook.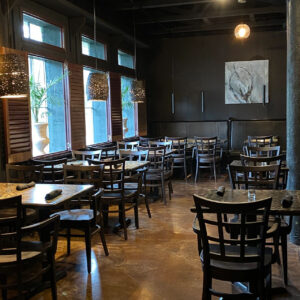 The team behind this inventive, vegan innovation—Chef Amy and Chef Divaldo—has quickly won over the stomachs of locals and visitors, as it has expanded from its initial business, Destin Fresh which many locals are familiar with, Amy decided to take a leap of faith with the new restaurant. The timing was right. "When I started this venture, I had no idea how amazing it would be. I saw a need, I had an idea and I ran with it. Long days and nights, over my head at times, stressed, excited and dedicated, we grew the idea," says Amy on Facebook.
"The idea was made real." The long-awaited Oasis Santa Rosa Beach is now open for lunch (11 a.m.-3:30 p.m.) and dinner (4:40-10 p.m.). "I started this adventure with no real plan. I needed a kitchen and found myself building a restaurant. Over my head and out of my league would be an understatement for sure," says Amy. I jumped in and let my ideas take over and run wild as day by day I added to and built out my Oasis."
Get away from your ordinary at the outside smoothie bar. Do lunch at the outside café and pool deck. Sip on amazing Oasis craft drink list at the Elixir Bar or feast at the fabulous Sunday brunch from 11 a.m. – 3:30 p.m. There's also a pizza bar and inside reservation only dining.
"Oasis is a place to stay, chill and relax. "We saw a need, had a vision, and then made it real. We wanted a place for us and others. A place where people could eat and enjoy food without fear of harming our bodies or animals," says Amy. "Here's to clean eating, delicious eating and safe eating—so grateful for these healing foods and this opportunity."
"The Oasis is a place to connect thought planned events, yoga, pool, lounge, evening dining, breakfast, lunch, smoothies, etc. And no TVs! It's a stay-all-day or grab-a-bite-and-go place—a unique way to dine and unwind," Amy passionately elaborates. "I just want to make people feel good!"
Located off the busy path of Hwys. 98 and 30a on 306 Bald Eagle Dr., it's time to find your way to the Oasis! Visit theOasisSRB.com or @theOasisSRB on Facebook. Call (850) 401-9149. Open Tuesday To Friday-Lunch: 11 a.m.-3:30 p.m. Dinner 5 to 10 p.m.; Saturday 5-10 p.m.; Sunday Brunch 11 a.m.-3 p.m.