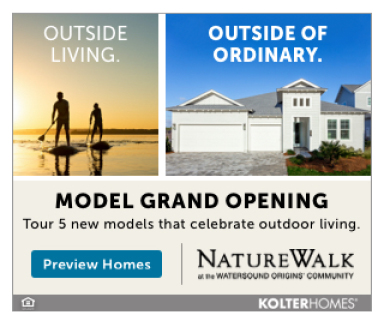 The St. Joe Company is one of the largest developers in Northwest Florida with active projects spanning from South Walton to the Forgotten Coast. The company also owns various commercial, resort and club properties in addition to operating the St. Joe Community Foundation which provides charitable grants toward the civic infrastructure of communities in Northwest Florida.
In response to the COVID-19 pandemic, the St. Joe Community Foundation dispersed grants to three local nonprofit organizations totaling $297,340 to fund the purchase of much-needed testing supplies and personal protective equipment for three Northwest Florida health care providers.
Wondering what else the St. Joe Company has in the works? See the latest updates for Walton and Bay counties.
SOUTH WALTON
The St. Joe Company broke ground in March 2020 on a new 64-unit townhome community to be built in phases in Watersound. The new community will be located off of North Watersound Parkway in the Watersound Origins Community adjacent to the Origins Golf Course. Construction is expected to be complete for the first phase and townhome units will be available for lease in early 2021.
Also, in March the company broke ground on Watersound Camp Creek, a new residential community. According to plans, this gated community will feature 262 custom homesites located adjacent to the Camp Creek Golf Club. This new community will be developed in phases with the entrance located off of South Watersound Parkway.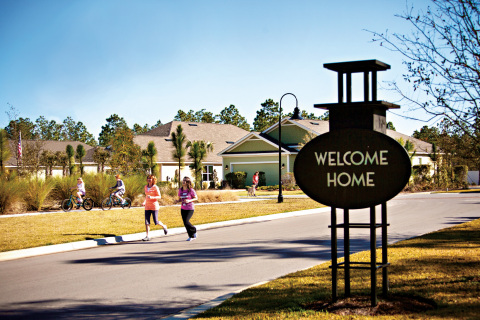 "Watersound Camp Creek will be the newest Watersound community adding to WaterSound Beach, WaterSound West Beach and Watersound Origins in South Walton County," said Bridget Precise, Senior Vice President of Residential Real Estate for St. Joe in a press release distributed by the St. Joe Company. "This development is ideally located adjacent to Camp Creek Golf Club and the amenities that are being constructed and within a short walk, bike or golf cart ride to Scenic Hwy 30-A and the Gulf of Mexico or to the future Watersound Origins Town Center and Publix Super Market that will break ground this spring."
PANAMA CITY BEACH
The St. Joe Company commenced development of 80 homesites in the Breakfast Point community in Panama City Beach in late May. The new phase will increase the total number of homesites from 369 to 449 upon completion and was initiated to meet demand for new homes in the community. The new homesite phase is being developed to the east of Breakfast Point Boulevard off of Graze Point Drive with plans calling for development work to be completed later this year.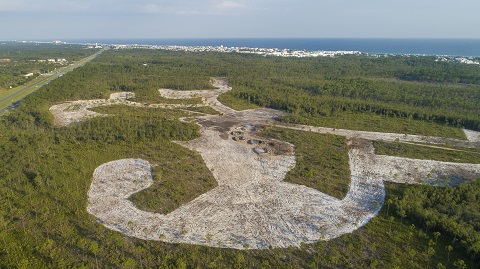 "The Breakfast Point community continues to attract homebuyers looking for a family-friendly, short-term rental restricted neighborhood that is close to everything that makes Panama City Beach such a great place to live," said Bridget Precise, Senior Vice President of Residential Real Estate for St. Joe in a press release distributed by the St. Joe Company. "We have established relationships with homebuilders and closed on 88 homesites in the Breakfast Point community in 2019. This new phase will enable us to meet the continued demand from these homebuilders as the community continues to grow attract new residents."