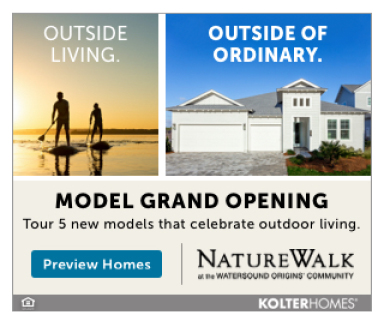 By Marta Rose-Thorpe
For years Jimy Thorpe felt the urge to give back. A veteran, Jimy had served as a young man in the U.S. Army for eight years and had always held the highest regard for the men and women who serve our country and keep us safe. This group also includes first responders – the men and women who keep our communities safe. So how would he give back? In 2014, he created the tagline "Vets Helping Vets" – later elevated to "Vets Helping Vets & First Responders" – and decided to start giving what he had to give: HVAC units. Jimy owns A Superior Air Conditioning Company, a local business he launched in 2003.
In the beginning, Jimy and his team decided to give away eight units per year. Vets and first responders were encouraged to apply online at ASuperiorAC.com and the giveaway was open to all who have served in the Army, Navy, Air Force, Marines, Coast Guard and all first responders including EMT/Medics, Police, Sheriffs and Fire Fighters. American Legion Post 392 in Panama City met and voted on all submissions each quarter, selecting one veteran in need and one first responder in need to be awarded the units.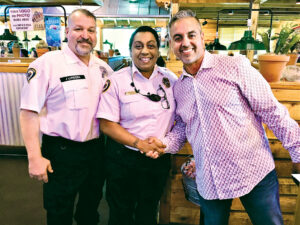 In 2015, the giveaway began taking the form of a quarterly appreciation lunch at Harley-Davidson of Panama City Beach. Local musician Neal James opened the lunches with the National Anthem and play background music while Texas Roadhouse catered. The first event hosted around 40 guests and several local businesses co-sponsored. The next lunch brought in a few more guests and sponsors, and the Vet Center and other veteran-related organizations joined in. As the word-of-mouth continued, the guest list grew. By Fall 2017, the event moved to Texas Roadhouse. Today this appreciation lunch still takes place, now maxing out the restaurant at 380+ guests.
But Jimy still wanted to reach and help more veterans and first responders. In November 2019, Pastor Dave of Faith Assembly Church in Miramar Beach (affectionately known as "The Rock & Roll Church") invited Jimy to launch a quarterly appreciation lunch there, thus reaching vets and first responders in the Walton/Okaloosa area. The appreciation lunch has taken place there ever since, slowly growing in attendance and giving away one HVAC unit per quarter, for a total of 12 HVAC units given away per year.
"I feel that giving back to veterans and first responders is like taking the time to help my father," says Jimy, whose father served in the U.S. Marines. "It's something that comes second nature; it's instinctive and something that's driven in me."
Join us for the next Veterans & First Responders Appreciation Lunch on Tuesday, July 13, 2021 from 11:30 a.m. to 1 p.m. at Faith Assembly Christian Church (a.k.a. The Rock & Roll Church), 306 South Geronimo Street, Miramar Beach, 32550.REGISTER TO WIN HVAC UNIT. Go to ASuperiorAC.com and scroll down to the box at the bottom, "Veterans & First Responders HVAC Giveaways."