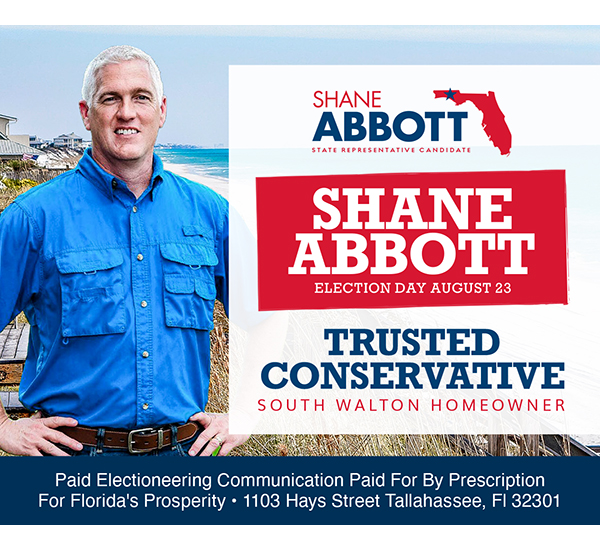 By Heather Bennett 
If you've read any of Life Media publications, South Walton Life, Destin Life, PCB Life, Bay Life, and now Fort Walton Life, you've probably noticed our sea turtle logo. That logo came to life in the form of Theodora "Theo" of South Walton, who represents all the endangered sea turtles.
Theo of South Walton, a loveable, cuddly plush sea turtle has been making waves along the Emerald Coast since her creation in 2018. Her mission is to raise awareness of sea turtle endangerment and raise funds for local organizations. One of those is the non-profit Friends of South Walton Sea Turtles (FOSWST), an all-volunteer organization started in 2015 dedicated to promoting sea turtle conservation through awareness and education, to locals and visitors alike. The organization deploys over 200 volunteers each year, walking the beaches, educating visitors and locals about the delicate ecosystem, and the necessity of keeping our beaches #cleandarkflat and what it means to #leavenotrace.
Their mission is primarily educational, unlike the South Walton Turtle Watch Group, which focuses on locating and monitoring sea turtle nests and overseeing volunteers for the protection of the turtles and their hatchlings.
Since the summer of 2018, and with the help of over 30 local retail stores, Theo has  raised over $50,000 for the FOSWST. "Theo has been our amazing ambassador for over 4 years",  said Beth Coppedge, the founder and president of FOSWST. "The donations from the sales of Theo has enabled FOSWST to procure the Inwater Traveling Turtle Trunks which have greatly enhanced out educational program for all 5th graders in Walton County, our adorable Theo helps us deliver our critical message to leave beaches #cleandarkflat. What a better way to educate our children about sea turtle conservation, we are so thankful for the Theo program."
Theo has evolved from just a plush toy, to a growing product line that includes Theo keychains, Christmas ornaments, hats, and even a children's book about her adventures. Theo branded products can be found online at https://theotheturtle.com or throughout South Walton at places such as the South Walton's Visitor Center, Pecan Jack's 30A, Clint Eagar Design, Retail therapy in Santa Rosa Beach and 40th Street Pizza in Miramar Beach.​ By purchasing a Theo, you can support the  efforts in raising money for FOSWST and sea turtle awareness. We appreciate all of our supporters, and hope to gain many more.
"It has been a pleasure working with and for the amazing volunteers of the Friends of South Walton Sea Turtles," said South Walton Life publisher, David White. "We look forward to a continuing partnership and hopefully reach $100,000 even faster."