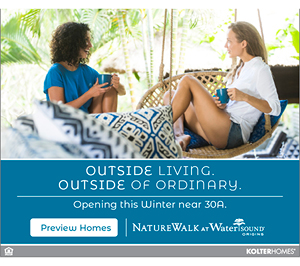 The Summer is winding down and The HUB is looking forward to cooler weather, football season and the holidays!
Football
Although the cooler weather may take a while, football season is just around the corner! The HUB will showcase NFL pre-season games throughout the month of August on the Jumbotron and pavilion TVs.
Make plans to come out for the first big day of college football on August 31st for the "Football Season Kickoff Party". A special menu will feature football favorites, games will be playing all day and halftime live music will be presented by the South Walton High School Marching Band. The HUB will donate and raffle a prize package to benefit the high school's band booster program. It will be a great day to catch the games with friends & family while supporting the community's young musicians.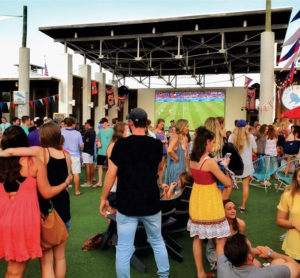 Locals Nights
The HUB will continue their seasonal tradition of hosting a locals night each Thursday throughout September & October featuring live music in the pavilion and NFL on the jumbotron. Sign up and receive your locals discount card at The "Locals Night Launch Party" on September 5th, 2019 and enjoy live tunes by The Red Bar Jazz Band. Card benefits: 20% off all purchases through March1st, 2020 at Mile Marker 15, Local Smoke & Mr. Freeze, one complimentary draft beer and $8 double stack burgers with fries on Thursdays.
Thanksgiving 
The HUB is proud to be a sponsor and official packet pick-up location for the 8th annual 30A 10K Thanksgiving Day Races. The 30A 10K is a nonprofit organization that serves the community by producing a world class race that raises money to benefit local charities and was ranked one of the top five Thanksgiving Day races in the country. More info at www.30a10k.com
The packet pick-up day for the race (Noon – 7pm on November 27th) will be action packed with an afternoon performance by the Seaside REP Theater followed by live music with local band, The Turkey Basters, and a family friendly flick on the big screen that evening. Don't miss the full day of family fun!
The HUB's Southern Pride Smoker will be busy this holiday season with orders for Thanksgiving To Go! House smoked turkeys with traditional sides, pies and more will be available for pickup on November 27th and for a limited time period on Thanksgiving Day November 28th. Orders must be placed one week in advance and forms will be available soon at https://www.hub30a.com.
Holiday Parties
For those seeking a gathering spot for special events, The HUB has several options. The screened porch is available for private parties and events with seating for up to 50 people and standing reception space for up to 75. It is equipped with a gas fireplace for the Fall & Winter and is the perfect spot for holiday gatherings, company parties or any special occasion. The HUB offers a complete food and beverage catering menu ranging from fiesta style bites to authentic Southern BBQ.  Bands and DJs are available from the HUB's extensive list of performers. Space for larger gatherings is available in the screened pavilion. For event information visit https://hub30a.com/catering/