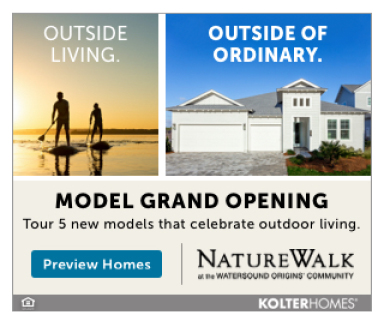 By Staff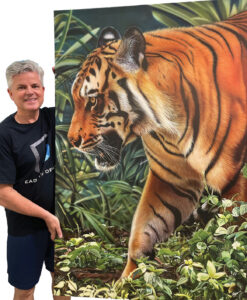 The sole visible eye of Clint Eagar's tiger, "Stalker" is a lucid yellow,  the glistening focal point of a piece so startlingly real that for a long minute it seems like some larger-than-life photograph. It is, however, not Mother Nature but rather Eagar's painstakingly refined brush-strokes that have brought this beast to life. It's also a fine example of the animal-centric paintings for which Eagar is increasingly known, with the Safari Club International's Artist of the Year Award to prove it. In fact, Eagar was the recipient of SCI's award both in 2020 and again in 2021. He's also just opened a second gallery in Franklin, Tennessee this past month showcasing some of his award-winning work.
Eagar, raised and educated in South Africa, spent many childhood years exploring places like Kruger National Park,  one of Africa's largest game reserves. Here, hippo sightings vied with lions, cheetahs, and the occasional leopard for attention. Thoroughly steeped in big game culture, Eagar went on to study art at the Johannesburg School of Art, expanding his focus after he immigrated to the United States and spent time at the Fashion and Art Institute in Dallas, Texas. In the years since, his realist style has ranged from fashion themes and Formula One race cars to diverse landscapes, while he simultaneously pursued other creative angles in the design industry.
Fast forward many busy paint-splattered years to the more recent past and find Eagar returning to his African roots with a painting line-up that includes appearances by familiar safari faces: leopards, elephants,  a snarling lion, and rhinos come alive under his steady hand. Not to neglect his adopted home, a number of North American mammals, such as "Mountain Ram" (which was his prize-winning submission to Safari Club International in 2020), and South American wildlife (think vibrant Macaws and a prowling jaguar), emphasize his abilities in this particular genre. Not surprisingly, there's an Emerald Coast influence clearly discernible in his "Aquatic Collection", comprised of a veritable sea of fish, as well as a friendly dolphin and an unperturbed sea turtle – all rendered in great detail.
His more hyper-realist works can take months to finish, some of which are available to pre-order as limited edition prints. In addition to maintaining a working studio and gallery in Grayton Beach, Eagar has also just opened the aforementioned gallery space in Franklin, Tennessee. For now, he'll be splitting his time between Grayton Beach and Franklin; he'll spend a weekend each month at the latter for Franklin's First Friday Art Crawl. At the grand opening in May, he unveiled his brand new tiger painting, "Stalker". "We've already pre-sold three of the artist proofs," says Eagar. One of them is being purchased (fittingly) by part owners of the Cincinnati Bengals, a Cincinnati football franchise (named presumably for the rare white Bengal tigers that once graced the city zoo).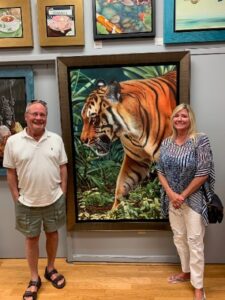 In addition to keeping these two galleries lively, Eagar is also working with actress Jennifer O'Neill to kickstart a fund-raising partnership to benefit her foundation, Home and Healing Hands at Hillenglade (HHH).  Through her foundation, O'Neil uses equine-assisted programs to bring hope and healing to Veterans, as well as armed forces, first responders, and their families. Eagar is contemplating a series of equestrian portraits, with plans for part of the proceeds from these new works to go to HHH.
Between painting, commuting, and plotting charitable ventures, Eagar found the time recently to sign a large licensing deal with a company out of Canada that will represent his designs, and images of his work, on products in a wide range of industries, from flat-wear and puzzles to home decor, accents, and gifts.
Whether Eagar is at his gallery in Grayton Beach or away snapping reference images on safari (or simply visiting his Franklin gallery), visitors to his gallery space will be able to learn more about his work and find just the right piece for just the right wall space. It doesn't matter if the end objective is big game or small fry: Eagar and his team can help with frame selection and choosing a specialty LED light to perfectly set off each painting.
For a closer look at his collections and to buy prints, visit clinteagardesign.com. His gallery in Grayton Beach is located at 36 Uptown Grayton Cir, open Tue-Sat 10 a.m. – 5 p.m., and Sun 10 a.m. – 2 p.m.,  or ring (224) 715-2252 for more information.