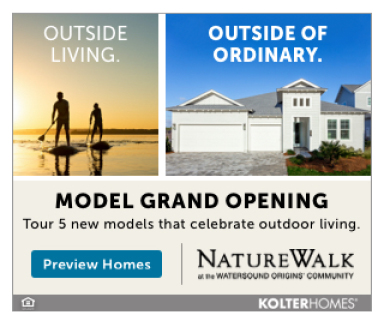 The Pearl Hotel, Rosemary Beach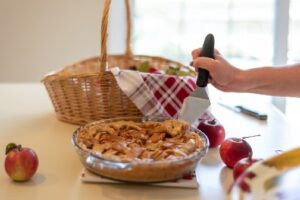 The Pearl Hotel's concierge will begin taking Thanksgiving Dinner reservations for the general public on Monday throughout the month of November. Reservations can be made by calling (850) 588-2882.
Thanksgiving Plated 3-Course Dinner
Seating times from 11am to 8pm on Thanksgiving Day, Thursday November 25, 2021
$85/adult, Children 3 to 12: $45/child, Children 2 and under: Free
Visit www.thepearlrb.com for complete menu options.
Havana Beach Bar & Grill, Rosemary Beach                                                                      Dining Room open for Plated Meal with seating times from 11am to 8pm, Bar & Lounge open from 11 a.m. to 9 p.m. (last call at 8:30 p.m.) offering regular bar/lounge menus and an a la carte Thanksgiving offering available at the bar only on a first come first served basis.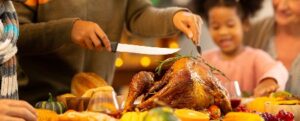 Havana Beach Roof Top
Open for normal operations, weather permitting. Last call at 8:30 p.m. with a closure of the space at 9 p.m.
FOOW, Watercolor
Thursday, November 25th, All Day, there's no better day than one served with turkey and dressing! Join us at FOOW restaurant at the WaterColor Inn. Guests can enjoy Thanksgiving plates along with a la carte brunch items until 2:00pm. Enjoy your day and let the team at FOOW do all the work for you!
WaterColor Lakehouse 
Thursday November 25th, 11am-3pm, Buffet style brunch will be served at $65 for adults, $30 for children, 12 and under.  Reservations required. (Service charge and sales tax not included.)
FOOW, Watercolor
Brunch with Santa, Friday, November 26th, 9am – 12pm
Brunch is served a la carte with Santa who is available for pictures & wish lists. Santa will be giving out sweet treats to all the children!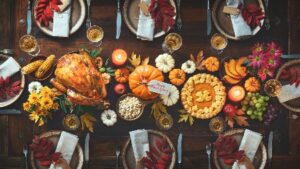 The Bay, Santa Rosa Beach                                                                                               Thursday, November 25th, 11am-4pm,
There's nothing like a bayfront Thanksgiving!  The Bay is offering a Thanksgiving buffet, $39/adults, $19/child. Reservations are required and can be made by phone only (850-622-2291) starting November 1st. Visit www.baysouthwalton.com for more information.
Great Southern Cafe, Seaside                                                                                           Thursday, November 25th, Gobble gobble, it's time to save your spot for Great Southern's famous Traditional Thanksgiving supper! This year, it will be plated, instead of a buffet. Call to reserve your place beginning November 1, 2021 at 8:00am. $39 adults $19 kids. Seatings available from 10:00 a.m. – 4:00 p.m. Later Thanksgiving night, they'll re-open around 5:00 p.m. – 9:30 p.m. for dinner service.
Food for Thought
The holidays are a magical time for most. Unfortunately, many local families face a huge economic burden during the holidays, and prolonged stress related to food insecurity can get in the way of truly enjoying the holiday season with their loved ones.For Thanksgiving and Christmas, Food For Thought will feed 700 families for each holiday meal curbside service. Text-to-give by texting FFTHOLIDAY to 44321 or donate via www.fftfl.org.