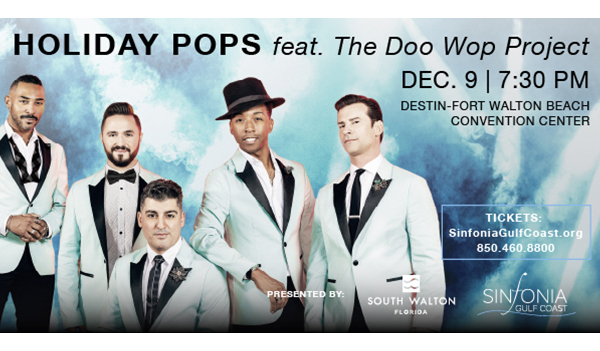 The Pearl Hotel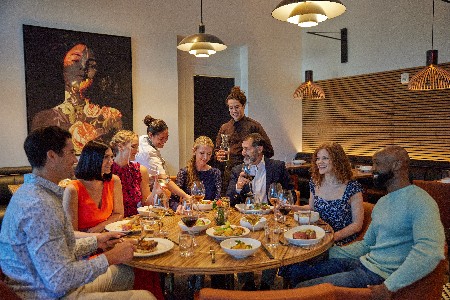 Havana Beach Bar & Grill at The Pearl Hotel is offering a Thanksgiving Grand Buffet this year. The Grand Buffet will be held on November 24, with seating times from 11 AM to 7 PM. Highlights include an Emerald Coast Seafood Display with poached Gulf shrimp, cocktail crab claws, smoked tuna dip, oysters on the half shell, and Gulf Coast ceviche; Entrees including roasted turkey with sage-shallot butter, herb-roasted prime rib at a chef-attended carving station, maple-bourbon glazed ham, and blackened Red Snapper; and a selection of House Baked Desserts including pies, tarts, and much more! Price: $85 for adults; $45 for children ages 4 to 12; $35 for children ages 3 and under. Reservations are required. Call (850) 588-2882 for reservations or visit www.ThePearlRB.com. 63 Main Street, Rosemary Beach.
Old Florida Fish House
Join the Old Florida Fish House for their Traditional Thanksgiving Buffet, featuring two carving station choices: Butter & Herb Roasted Turkey Breast and Rosemary Garlic Prime Rib. Other mains include a Roasted Wild Salmon w/ Cucumber dill Yogurt Sauce or Gluten Free Royal Red Fried Shrimp. Open 11am – 6PM. The full menu can be seen by visiting www.oldfloridafishhouse.com.  Adults $69, Children Under 10: $29. Call for reservations, 850-534-3045. Old Florida Fish House, 33 Heron's Watch Way, Santa Rosa Beach.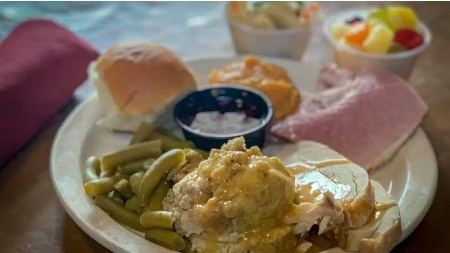 WaterColor Inn & Resort
The WaterColor LakeHouse is offering a special Thanksgiving Buffet on November 24 from 10 AM to 3 PM, featuring everything from a Breakfast Corner (offering familiar favorites like scrambled eggs, crisp Applewood bacon, French toast and hot oatmeal porridge) to a Bakery section (house-baked rolls, breakfast Danish and pastries, banana bread and more), along with an Iced Seafood & Raw Bar, a Carving Station featuring herb-roasted whole turkey and herb peppercorn-crusted prime rib, a wide selection of Main and Side Dishes, Desserts, and even a Kids Menu! Price for the WaterColor LakeHouse Buffet is $85 per adult, $45 per child ages 6 to 12, and complimentary for children 5 and under. 235 WaterColor Blvd. W, WaterColor. Email WCISocialEvents@stjoe.com for reservations. Phone 850 534-5000.
Family-Style Turkey To-Go or WaterColor Delivery
For those who would rather have their Thanksgiving Dinner delivered or get it to go, WaterColor Inn & Resort has the perfect option for you – choose between a Whole Turkey Package or Half Turkey Package. Both options come with a wide selections of Main Dishes (herb-roasted whole turkey and butternut squash ravioli), Cold Selections (coastal greens salad, Caesar salad, poached Gulf shrimp), and Dessert (salted caramel pumpkin pie, bourbon chocolate pecan pie). Each package includes turkey and all the trimmings for 4 to 6 people.
$300 – Whole Turkey Package
$225 – Half Turkey Package
Email WCISocialEvents@stjoe.com by Monday, November 21 to place your order; pick up will be at Gather Kitchen + Bar from 10:30 AM to 2 PM on Thanksgiving. 34 Goldenrod Circle, WaterColor. Phone 850 534-5000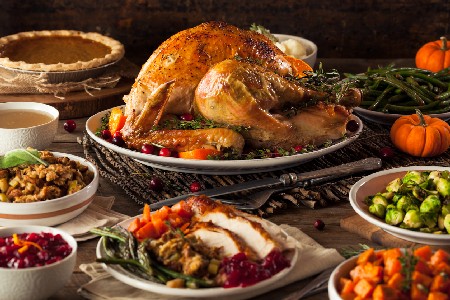 Thanksgiving Brunch at Ovide by James Beard award-winning chef Hugh Acheson 
Perfect for hotel guests and locals, guests can skip the clean-up and dine in at Ovide, Hotel Effie's in-house restaurant. Ovide, the restaurant by award-winning celebrity chef and 2-time James Beard nominee, Hugh Acheson, is offering a feast of roasted turkey, cornbread stuffing, savory gravy, Effie's iconic homemade biscuits and much more. This experience includes a seafood buffet alongside a family style dinner, including starters, salads, entrees, sides, and delicious desserts to taste. Brunch is available from 10 a.m. to 3 p.m. for $65 per person and $30 for children under 12. Make reservations by calling 850-351-3030 by November 18. Hotel Effie Sandestin, 1 Grand Sandestin Blvd, Miramar Beach
Thanksgiving Fall Dinner at Ovide
Leave your cooking utensils at home and enjoy an elegant home cooked meal at Ovide with all the flavor and none of the stress. This elevated Thanksgiving dinner features a three-course meal with an array of all your favorite fall classics. Ovide's chic, well-appointed interior and sophisticated ambiance is the perfect setting for a heart-warming meal with loved ones. Make reservations by calling  850-351-3030 by November 18. Hotel Effie Sandestin, 1 Grand Sandestin Blvd, Miramar Beach.
Fish Out of Water at WaterColor Inn
The Fish Out of Water restaurant is offering Thanksgiving-themed options throughout the day on November 24, including a Pumpkin Spiced Croffle, Shaved Turkey Rueben, Warm Sweet Potato Casserole, and Brown Buter Pecan Ice Cream between 8 AM and 2 PM, and the Thanksgiving Feast from 4 PM to 9 PM, with roasted turkey breast, fried maple almond Brussels sprouts, green bean casserole, cornbread stuffing, candied yams, Boursin whipped potatoes, turkey gravy and cranberry sauce. 34 Goldenrod Circle, WaterColor. www.foow30a.com, Phone 850 534-5000.
Harbordock's Restaurant 28th Annual Thanksgiving Dinner
In what has become a local Thanksgiving tradition like no other, Harbor Docks Restaurant will provide complimentary meals to locals & out-of-towners for the 28th consecutive year this November 24th Thanksgiving day. After providing curbside "to go" plates the past two years because of the Covid-19 virus, Harbor Docks is back to having their sit down dinners inside the restaurant serving hundreds of people a traditional Thanksgiving meal including turkey, ham, dessert, beverages and all the "fixins." There is no set charge for the meal but donations are accepted benefitting Habitat For Humanity of Okaloosa County & Destin Harvest. All of the volunteers for the Thanksgiving feast are provided by Habitat For Humanity Okaloosa from the cooks to servers and everyone in-between. Credit cards will be accepted for donations and alcoholic beverages can be purchased at the bar separately but not included with the meals. Large family groups of 10 or more are encouraged & asked to please call the restaurant ahead of time so that a table can be reserved to avoid long waits…(850) 837-2506. Harbor Docks will begin seating at 11:00AM and will take the last sitting at 4:30PM. Please note that food will be served while it lasts. The serving is not buffet style but served individually to patrons. Parking will be available across the street from the restaurant with plenty of parking signage and handicap parking available also. Harbor Docks Restaurant is a Destin institution located in the "Heart of Destin" at 538 Harbor Boulevard.
Gather Kitchen + Bar
Gather Kitchen & Bar is offering Thanksgiving-themed options throughout the day on November 24, including an open-faced Louisville Hot Brown (with turkey breast, bacon, roasted tomato, Texas Toast and Mornay sauce); salted caramel pumpkin pie; black bottom sweet potato bread pudding; and her-roasted turkey roulade (with cornbread stuffing, haricot vert, wild mushroom, sage-roasted parsnips, creamed Brussels sprouts, candied sweet potatoes, acorn squash, garlic mashed potatoes, cranberry gastrique sauce, and giblet gravy). 34 Goldenrod Circle, WaterColor. www.watercolorresort.com/dining/gather-kitchen-bar. Call 850 534-5000 for details.
Scratch Biscuit Kitchen
For a Thanksgiving special this year, Scratch Biscuit Kitchen will offer Turkey Pot Pie (shredded braised turkey, diced root vegetables, garden peas, Scratch biscuit crust), and pumpkin latte cinnamon rolls. 1777 E. County Hwy 30A, Unit 101, WaterColor. www.scratchbk.com. 
The Canteen at WaterColor Resort
Thanksgiving Day specials at The Canteen in WaterColor Resort will include pumpkin pie brownie bars, and a Snickerdoodle Deep South Freeze (made with vanilla ice cream and pumpkin pie spice). 205 Spartina Cir., WaterColor. www.watercolorresort.com/dining/the-canteen. 850 534-5025.
Beach Cow at WaterColor Beach Club
Guests of WaterColor Resort can stop by The Beach Cow in the WaterColor Beach Club this Thanksgiving to try out a pumpkin pie milkshake, served with caramel syrup, whipped cream and Graham Cracker crumbs. 24 Goldenrod Circle, WaterColor. www.watercolorresort.com/dining/beach-cow. 850 534-5025.