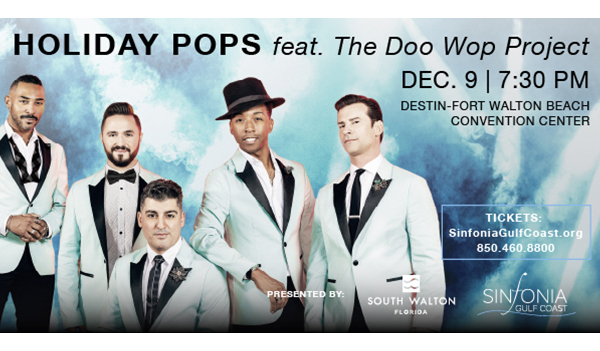 By Lori Leath Smith
If you're looking for fine dining with a backdrop of the Gulf of Mexico, Soleil located in The Inn at Crystal Beach is your spot. It's a grand view of the beach and Gulf, great seafood and much more with an upscale vibe.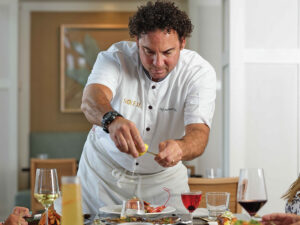 We tried an array of entrees and loved them all. Celebrity Chef Michael Sichel takes ordinary menu items such as steak, and turns them into a delicious work of art that leaves your taste buds wanting more. Dishes are positively different, ones you won't find anywhere else, such as oysters prepared several ways that pay tribute to the Bienville style of the Gulf Coast but with Chef Sichel's twist. The crab rolls were perfect, allowing the crab meat taste through, instead of the sauce. Chef Sichel delights in leaving his creative mark on each and every dish. The grand finale? Pastry Chef Michael Bump presented us with thoughtfully prepared delights to top off our meal. Pair your appetizer, entrée and dessert with non-ordinary, hand-chosen wines designed to complement, and you have a winning night out.
Soleil features coastal modern cuisine with an elevated dining experience. Menus evolve seasonally to match the naturally exquisite setting of sun, sand and sea. So, there's always something different to experience.
As a New York native, Chef Sichel grew up immersed in the ingredients, heritage and family-style cooking of his Italian roots. A Culinary Institute of America (CIA) grad, Chef Sichel's first job in the kitchen was at New York City's legendary Gotham Bar and Grill, and he credits its pioneering Chef Alfred Portale as his most influential culinary inspiration. Chef Sichel has since been in the kitchens of Rubicon (Drew Nieporent's San Francisco blockbuster restaurant), the Abbey of Sainte Croix (Salon-de-Provence, France), Auberge du Soleil (Napa), Restaurant Indigo (New Orleans), and Galatoire's (New Orleans), among others.
His accolades include competing on Bravo's Top Chef: New Orleans, 2013, an internship with World Pastry Champion Chef En-Ming Hsu of The French Pastry School at the Ritz Carlton Chicago, being a featured Chef at Jazz Aspen in June of 2018, being a featured Chef at Gatsby on DAOU Mountain Annual Wine Club event in Paso Robles, California in 2016, and he was a featured Chef at Arkansas Symphony Orchestra Opus Ball XXXII in Little Rock, Arkansas in 2016, to name a few.
Soleil serves lunch from 11 a.m. – 3 p.m. and dinner from 5 p.m. until close Tuesday – Saturday along with a Sunday Brunch from 11 a.m. – 3:15 p.m. Visit soleildestin.com.