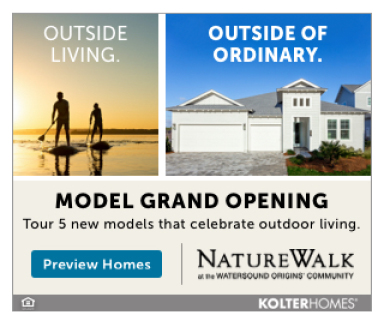 An anxious crowd gathered in Santa Rosa Beach on Tuesday, January 14th to watch as retired NFL running back Warrick Dunn surprised a single mother with the finishing touches that turned her new house into a home. Nancy and her two daughters are set to move into their new home built with Habitat for Humanity of Walton County later this month. Last week, they were surprised to learn their new house was move-in ready, complete with furniture and small appliances made possible through a partnership with Warrick Dunn Charities, Inc. (WDC) and furniture retailer Aaron's.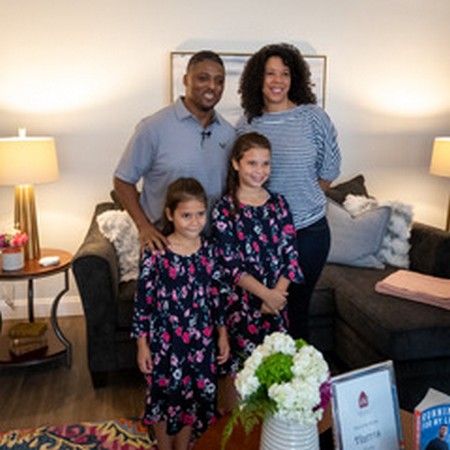 "My initial reaction was confusion…then shock set in," Nancy said. "Honestly, it's still sinking in, the magnitude of what has happened. I feel extremely honored and humbled by the generosity and kindness that Warrick Dunn Charities and Habitat for Humanity have showered upon my daughters and myself."
WDC, a national nonprofit founded in 2002, helps single-parent families achieve home ownership. In December, Habitat for Humanity of Walton County was notified that Nancy and her family would be recipients of the WDC's Home for the Holidays program –– a surprise they kept from Nancy until the January reveal. This was the WDC's 177th home celebration nationwide. In addition to Aaron's, all of the finishing touches, groceries, and down-payment assistance were made possible by local philanthropist, Ryan "Jume" Jumonville who connected WDC to the local Habitat chapter.
"I founded this charity in memory of my mom, who always dreamed of home ownership," Dunn said. Unfortunately, Dunn's mother, a Baton Rouge police officer, was killed in 1993. "I honor her legacy by helping other single-parent families become first-time homeowners. They just need that extra hand to keep moving forward."
Nancy's situation changed drastically when she discovered her husband was abusing one of their daughters. Since leaving him, she has been working full-time to support her family and has been rapidly building her credit and savings in order to purchase a home. Nancy's new home is the 54th built by Habitat for Humanity of Walton County. She has also worked as a volunteer for the organization, putting more than 250 hours of "sweat equity" into building her home, a requirement for all Habitat house recipients.
"It is so rewarding to help a single-mother create a safe place for her family to call home" Teresa Imdieke, Executive Director of Habitat for Humanity of Walton County, said. "I am thankful for our community partners that help us make the dream of home ownership a reality."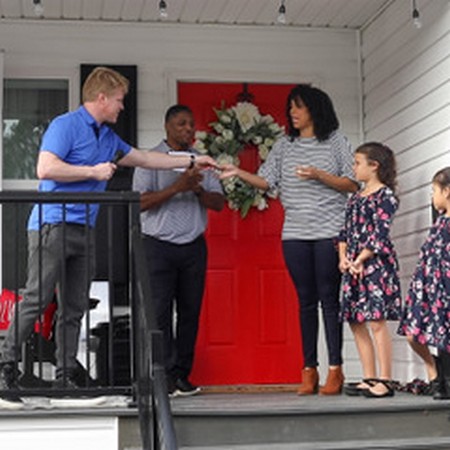 Habitat for Humanity works to provide affordable housing for working-class citizens. Recipients are selected through an application process and sold a home for its exact building price at zero percent interest. Last year, Habitat for Humanity of Walton County received $130,801 back in mortgage payments and over 4,745 nights were spent under the roof of a Habitat Home in our community.