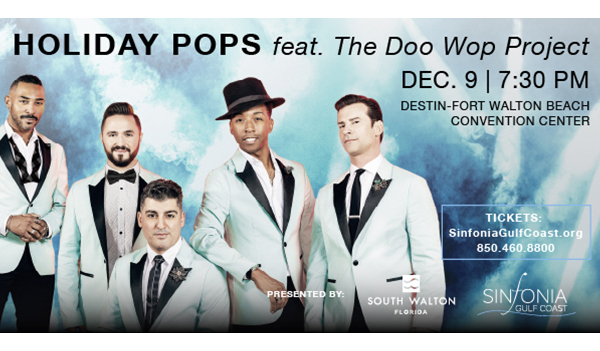 By Marta Rose-Thorpe
It was Saturday night and Señor Frog's was alive! The loud eighties rock (which would continue for the duration of our visit) welcomed us, and the place was vibrant with activity. Jen, the manager, greeted us and took us to our outside table overlooking the Gulf while a beautiful fresh sea breeze passed through. The DJ was playing "Name That Tune," our server Bennett brought waters, and Executive Chef Paco came out to meet us. Señor Frog's, he shared, began in Cancun, Mexico, with eight other establishments throughout resort towns in Mexico, four establishments in the US: in Orlando, Las Vegas, Myrtle Beach, and now, as of April, Panama City Beach, one in Puerto Rico, and two in the Bahamas.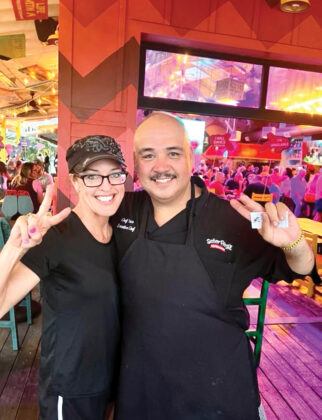 The Congo Line was getting rowdy, and the natives were getting restless… time to order a cocktail! I ordered a Cadillac Margarita – cool, tart, and refreshing with fresh citrus fruit afloat, and Bennett brought us bowls of guacamole, salsa, and queso with homemade corn tortilla chips. The guacamole was delicious, and I could taste the fresh garlic, lime, tomatoes, and cilantro. Same with the chunky salsa, and the queso was warm and creamy with diced tomatoes, peppers, and onions. Now, you're going to hear me say two words repeatedly throughout this Restaurant Review, Fresh and Homemade, because – well – everything on the menu is. Everything is also colorful, beautifully presented, and tastes scrumptious!
It felt like we were on a cruise ship as the glorious sun set behind the Gulf's horizon. A Señor Frog's Experience is all about having FUN… letting loose a little and having a memorable time. Kool & the Gang was belting out "Celebration," and I'm pretty sure at that point every guest was as well. Chef Paco brought out the stunning Shrimp Ceviche Trio with corn tortilla chips and plantains… a culinary work of art. The House Ceviche mixes red onion, tomato, and fresh cilantro alongside fresh whole Gulf shrimp; the Tropical Ceviche added diced sweet mango, and the Aguachile Ceviche intermingled jalapenos, diced cucumbers, and cilantro. Every so often manager Frank would stop by to check on us. We felt well taken care of, and the service was excellent (kudos to Marco, GM, for hiring such a great staff!). Another appetizer soon arrived, the magnificent Wings Platter. Four kinds of wings – BBQ, Honey Mustard, Buffalo, and Mango Habanero – took their own quadrant on the platter separated by wedges of cheese quesadillas and a central mountain of shredded cabbage, diced mango, and fresh cilantro. But wait – there's more! Chef Paco arrived again with a glorious Taco Platter consisting of five types of tacos in soft tortillas: Pulled Chicken, Carnitas, Grilled Shrimp, and Carne Asada (all with corn tortillas), and Blackened Mahi. The latter I found to be absolutely mouthwatering – the tender mahi tossed with cilantro lime slaw, chipotle aioli, and grilled street corn relish wrapped in a warm flour tortilla. All tacos were served with a rich and spicy Morita sauce – a marriage of jalapeno and smoked chipotle. (I fell in love with this condiment and found that it goes well on ALL FIVE tacos, especially the Carne Asada.)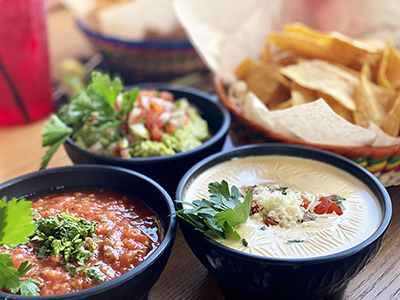 At this point the DJ, sitting up in the Crow's Nest above the big screen, proclaimed, "Here at Señor Frog's we like to have fun, party, and dance!" The drum choir whistles started blowing, the music got louder, and the guests started dancing. We were full and very satisfied. But Bennett told us it wasn't time to leave yet… and Chef Paco again appeared, this time with a trio of desserts. He told us the tall dish was a traditional Mexican dessert called Strawberries & Cream with a rich, sweet blend of sour cream and sweetened condensed milk at the bottom, folded into the fresh strawberry chunks, and fluffy whipped cream atop. The Homemade Key Lime Pie sat on a thick bed of sweet graham cracker crust topped with a dual drizzle of mango and banana sauces. And the Cinnamon Churros were coated in crunchy cinnamon-sugar and served with small bowls of Mexican chocolate sauce and thick, rich caramel sauce for dipping. Delectable!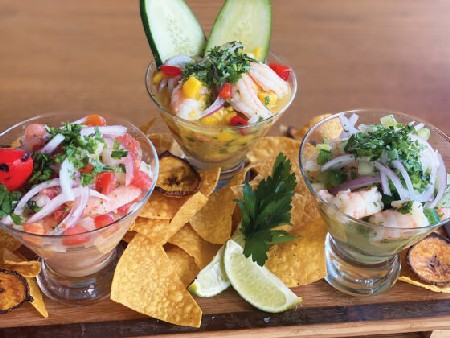 It's nice to see that the new Señor Frog's has maintained some of the best parts of Hang Five – the former establishment in this location – like including a few of Hang Five's favorite dishes such as the Fried Pickles, Pretzel Bites, Seafood Gumbo, the Beach Burger, Mardi Gras Pasta, and Pan Seared Grouper on their menu.
Señor Frog's is open from 10 a.m. to 2 a.m. seven days a week and is located at 15005 Front Beach Road. Overflow parking is directly across the street. Visit senorfrogs.com/panama-city-beach for more information.