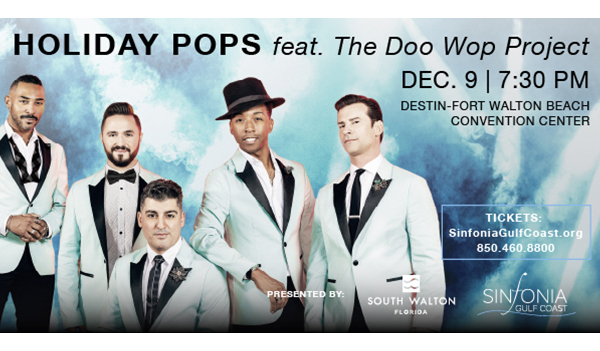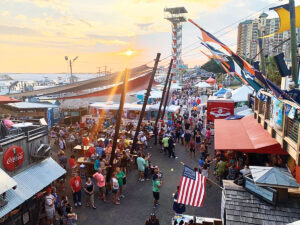 Now in its 44th year, the three-day Destin Seafood Fest attracts more than 60,000 locals and visitors to our beautiful and historic Destin Harbor and the Harbor Board Walk on Harbor Blvd. during the weekend. With a sampling of Destin's finest, you'll find freshly caught local varieties of grouper, shrimp, lobster, crab cakes, gumbo, sides and even crawfish all provided by local eateries and restaurants.
Happening Fri. through Sun., Oct. 7-9, the Festival kicks off October's month-long Destin Fishing Rodeo. You need no ticket to attend and you'll get the opportunity to take in some of the best local and coastal musicians at the beach with four stages beckoning you to a variety of live rock, reggae, country, tropical tunes and more. Local Destin restaurants and eateries will be serving up their scrumptious seafood specialties on the docks and along the Harbor Boardwalk. Cold drinks, including beer and wine, are available and will keep you cooled off while you take it all in. You can stroll along the Destin Harbor enjoying the arts and crafts where artists and vendors display their jewelry, clothing, sculpture, glass, watercolors, oil paintings, designs and more.
** New for 2022! The Call To Chef – A Local Seafood Experience brings back the flare of local seafood to our Destin Seafood Festival. Located inside the larger festival, the Call to Chef will require a paid ticket to browse the local restaurant tents, sample their flavors and vote for your favorites. Chefs, bring your best app, entrée or dessert for attendees to sample, and win up to $5000 in prizes! The winning chefs will be invited to/honored at a Village Supper at a later date.
Learn more: https://www.destinseafoodfest.com/local-seafood-experience.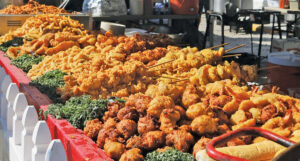 The Festival's Roots
All of the yum and fun began in 1978 when the Destin Charter Boat Ladies Auxiliary decided to establish a festival to celebrate local fishermen. Now a Destin tradition, it used to be only a one-day festival on "Kelly's Hill," a unique and beautiful location where folks could overlook the Destin Harbor, the current site of HarborWalk Village. It has always been held in conjunction with the Destin Fishing Rodeo during October.
To this day, portions of the proceeds are donated to the Destin Fisherman's Fund to help those in need and today is hosted by area businesses in conjunction with sponsors and countless volunteers. While the festival has grown into its new home on the Destin Harbor Boardwalk, the Destin Seafood Festival remains the primary fundraiser for the non-profit, Destin Charter Boat Association formed in 1954.
Tips for your best experience:
To Listen: This year's musical entertainment, with four different stages, will have you singing, tapping and swaying to the beat. Harborwalk Village, Boathouse Oyster, AJs, and Harbor Tavern will all host local bands playing and entertaining throughout the festival. Harbor restaurants and bars will offer a full line-up of local favorites as well performing throughout the day and evening. You can bring a chair and chill or don your dancing shoes! Bands and schedule can be found online at DestinSeafoodFest.com.
To Play (For the Kids): There are Kids Zones for all ages. The East Pass Marina Kids Zone will have an array of kids vendors. There is a seating tent nearby so that you can take a break and cool down while the kids play. The HarborWalk Kids Fun Zone has Hamster balls, a rock-climbing wall and a zip line. There is a seating tent nearby also. Kids will delight in face-painting and tattoos as well.
To Park: Parking will be available at Heron Harbor, the HarborWalk Village, the Destin Community Center, the Destin Fishing Museum as well as all local public parking lots in the area. There will also be a shuttle running through town. More information on times / routes available online.
To Attend: Admission to the Destin Seafood Festival is totally free! You will want some "moolah," however, for all of the mouthwatering food and drinks you'll find. Or, purchase tickets to the *new* Call To Chef event inside the East Pass Marina Parking Lot where you can sample a variety of food from local vendors for your ticket price and vote on your favorite!
Hours are Friday 4 p.m. – 10 p.m., Saturday 10 a.m. – 10 p.m. and Sunday 11 a.m. – 6 p.m.
For a site map, to participate as a chef, become a vendor and other information, visit DestinSeafoodFest.com. Email info@destinseafoodfest.com. And no matter what you do, just get to the Destin Seafood Festival for some great feasting, frolicking and fun!