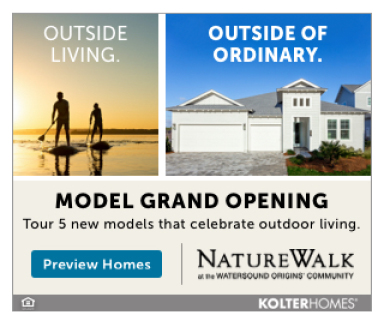 By Heather Bennett,
In addition to providing meals and snacks for the 3,400 food insecure children in their backpack program, Food for Thought has been gearing up for the holidays. They recently delivered 700 turkeys and 33,000 food items over 5 service locations to reach over 3,000 children across Okaloosa and Walton Counties for Thanksgiving.
If you are unfamiliar with their work, Food for Thought is a nonprofit organization, which provides meals and snacks to children who are dependent on free or reduced school meals, bridging meal gaps that might occur on the weekends or during holidays, so kids can focus less on where they are going to get their next meal and more on their schoolwork. They literally provide food for thought.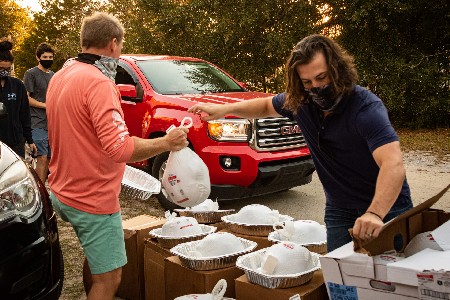 Due to the economic impact of Covid, Food for Thought has seen an increase in demand. "Last year we saw a 38% increase in our pick-ups for the holidays, and this year we are planning on a 10% increase over that," said Tiffanie Nelson, founder of Food for Thought. In 2020, most people were struggling with unemployment or reduced hours, and this year inflation has had an effect on the cost of groceries, gas and general cost of living, leaving some families still struggling to make ends meet.
Covid has also had a two-fold effect on Food for Thought. In addition to seeing a 40% increase in the cost of food from distributors and brokers, they experienced a decline in volunteers. "Prior to Covid we saw about 250 individual volunteers a week to help us provide our services, and right now we are struggling to get to 100," stated Tiffanie.
Despite the setbacks, Food for Thought is committed, and is meeting their weekly deliveries. They are grateful for the volunteers they currently have, and regardless of how social media looks, they are still in need of more volunteers to make the drops easier. "There aren't enough hands and feet on our team of 5 to provide all these services to over 3,000 kids a week," said Tiffanie, referring to the 34 school drops they make across Okaloosa and Walton counties.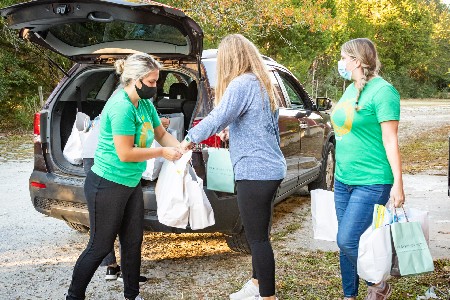 In addition to these services, they are getting prepared for another holiday drop for Christmas break, providing snacks and meals for children during their two-weeks off of school, a time when food insecurity may be high. A child can miss around 20 meals over Christmas break. "Children who are already enrolled in our services get access to our holiday services," stated Tiffanie. "We spread out through the community to make those pick ups easy for the families and we have a variety of times, and we communicate directly with the families."
When asked what Food for Thought needs most, Tiffanie said that volunteers and donors are both important because one doesn't work without the other. "We need donors to help support our work, and we need volunteers to help us distribute. They are both extremely valuable to us."
If you are interested in helping Food for Thought, keep in mind that it only costs $5 to fill a backpack to support a child for a week, and 1-2 hours a month of your time spent volunteering can really make a difference. For more information on how you can get involved, please visit their website, https://fftfl.org.