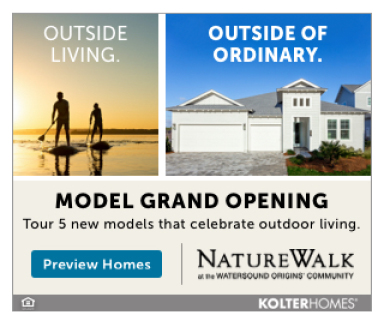 The Alzheimer's Association Walk to End Alzheimer's is the world's largest event to raise awareness and funds for Alzheimer's care, support and research. Since 1989, the Alzheimer's Association mobilized millions of Americans in the Alzheimer's Association Memory Walk®; now the Alzheimer's Association is continuing to lead the way with Walk to End Alzheimer's. Together, we can end Alzheimer's.
The event is scheduled for Nov. 13. Lauren Moon, closing assistant at Setco Services LLC, has joined the Alzheimer's Association as the 2021 Walk to End Alzheimer's event chair for the Emerald Coast. "When my grandmother, Ivie, was diagnosed with Alzheimer's in the early 2000s, my family became involved with the Association and created a Walk to End Alzheimer's team in her honor," Moon said. "This tradition continued for several years and greatly influenced my decision to join the Walk Planning Committee when I relocated as an adult to the Emerald Coast. It has been my privilege to help carry on a tradition that meant so much to my family and to walk in memory of my grandmother and all those who have been impacted by Alzheimer's disease."
On Walk day, participants honor those affected by Alzheimer's with the poignant Promise Garden ceremony — a mission-focused experience that signifies their solidarity in the fight against the disease. The different colors of the Promise Garden flowers represent participants' personal connections to Alzheimer's and their reasons for walking.
While the Alzheimer's Association is moving forward with hosting the Emerald Coast Walk in person, Walk Director Tina Henson noted that the health and safety of participants, staff and volunteers remain the organization's top priorities as decisions are made about event details.
"Although we are looking forward to gathering in person this fall, we want to ensure that all those who wish to show their support are able to do so in a way that is comfortable for them," Henson said. "That's why, like last year, we're offering options to participate in Walk online and in local neighborhoods as well."
According to the Alzheimer's Association, more than 6 million Americans are living with Alzheimer's disease – a leading cause of death in the United States. Additionally, more than 11 million family members and friends provide care to people living with Alzheimer's and other dementias.
To register and receive the latest updates on this year's Walk to End Alzheimer's, visit alz.org/walk.
The Alzheimer's Association is a worldwide voluntary health organization dedicated to Alzheimer's care, support and research. Its mission is to lead the way to end Alzheimer's and all other dementia – by accelerating global research, driving risk reduction and early detection, and maximizing quality care and support. Visit alz.org or call 800.272.3900.