Performances are Tuesdays, Jan. 12 & 26 and Feb. 2, 9 & 23 and March 2 at 7:30 p.m. 
Emerald Coast Theatre Company's The StoryTeller Series returns with three new offerings on Tuesday evenings at 7:30 p.m. January 12 through March 2.
The 2021 lineup includes Three Places at Yalta (Jan. 12 & Feb. 9), Give 'em Hell Harry! (Jan. 16) and Katharine Hepburn (Feb. 23 & March 2).
The series begins with the world premier staging of Three Places at Yalta (Jan. 12 & Feb. 9), a one-man show written by and starring Bruce Collier. In this power-packed political piece, Collier deftly portrays World War II's "big three" — Winston Churchill, Josef Stalin and Franklin D. Roosevelt.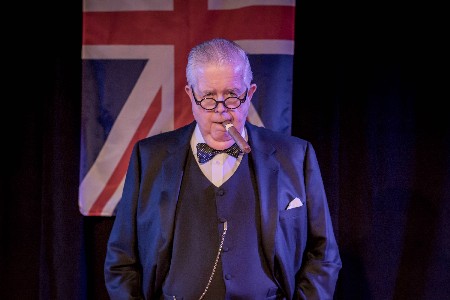 lan Tuttle stars Carl Eugene Bolt's "docudrama" play Give 'em Hell Harry! on Jan. 26. This faithful and often humorous piece is a portrayal of the life and presidency of President Harry S. Truman. The play spans Truman's childhood, his "political apprenticeship" as a judge in Jackson County Missouri, his years in the U.S. Senate and his momentous two terms as President of the United States.
ECTC's StoryTeller Series concludes with Katharine Hepburn (Feb. 23 & March 2), a one-woman show written and performed by the incomparable Shirley Simpson. Simpson embodies the wit, charm and fierce grit that is the Oscar-winning American actress Katharine Hepburn (1907-2003). Her piece delivers a humorous and touching portraying of the fiery and independent Hepburn throughout her career touching on the events and people who shaped her 96-year life.
A former producer, writer, and performer in the New York Madison Avenue television market, her TV series The Vital Link was nominated for and won the ACE Award. Simpson is a member of Actor's Equity Association and is contributing her performance fees to Sacred Heart.  Simpson is performing Katharine Hepburn as a benefit for ECTC.
All series events will be staged at ECTC's performance space located at 560 Grand Boulevard (upstairs) in Grand Boulevard at Sandestin, located in Miramar Beach, Florida.
Tickets are $32 per person for adults, $30 for seniors/military and $28 for students. Purchase tickets online at www.emeraldcoasttheatre.org.
Purchase tickets online at https://www.emeraldcoasttheatre.org/on-stage or call (850) 684-0323.