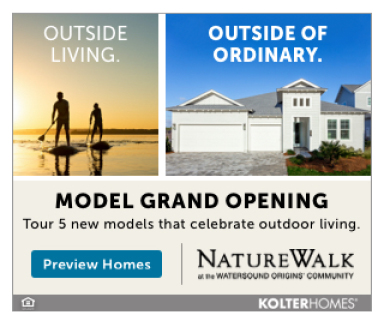 Pass the popcorn! Emerald Coast Theatre Company (ECTC) caps its 8th annual mainstage season by staging Popcorn Falls. The show opens Friday, Feb. 12 and runs three weekends through Sunday, Feb. 28. Performances are Thursday, Friday, Saturday and Sunday at 7:30 p.m. with 2 p.m. Sunday matinees Feb. 14, 21 and 28.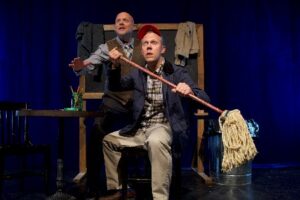 In James Hindman's comedic play two actors portray more than 20 roles in a world of farce, love and desperation, proving once and for all that art can save the world—or at least the town of Popcorn Falls. The story centers on the sleepy town which has fallen on hard times and the only thing that can save it is…a play! The two main characters we meet at the top of the show are the new mayor Mr. Trundle (Nathanael Fisher) and the town handyman Joe (Jason Hedden), who are setting up for a community meeting on the stage of the town hall. We learn that the town is in terrible shape, and the head of the county budget committee is coming to the meeting and has promised them a large check which will solve all their problems. But, of course, antics ensue.
The script sets the scene by calling for, "one small town, two medium sized actors, 21 over-the-top characters." New York Theater Guide describes it as "an actor's dream of a play." When it debuted in 2017, Theater Nova said, "The new play 'Popcorn Falls' is an energetic romp, full of impressions, wit, and (slightly manic) charm."
Nathanael Fisher is the cofounder and producing artistic director of ECTC. A Florida native, he received his BA in theater studies from Palm Beach Atlantic University and later went on to receive his MFA in acting at Regent University.
Jason Hedden is an actor, director and teacher based in Panama City Beach. He is currently a professor of theater and Chair of Visual and Performing Arts at Gulf Coast State College (GCSC) where he is currently directing ShakespeaREMIXED.
A part of the Professional Theatre Mainstage series, Popcorn Falls will be staged in ECTC's performance space located on the second floor of 560 Grand Boulevard in Grand Boulevard at Sandestin in Miramar Beach. The show runs around 90 minutes with one 15-minute intermission. Tickets to Popcorn Falls are $32 per person for adults, $30 for seniors/military and $28 for students. Purchase tickets online at www.emeraldcoasttheatre.org.
Save the date for ECTC's StoryTeller Series: Katharine Hepburn (Feb. 23 & March 2).
ECTC is implementing its Safety Protocol Plan to ensure our patrons can enjoy all offerings in a safe environment. Patrons can find the detailed plan on ECTC's website.
To learn more about Emerald Coast Theatre Company, find them on Facebook, call (850) 684-0323 and visit www.emeraldcoasttheatre.org.