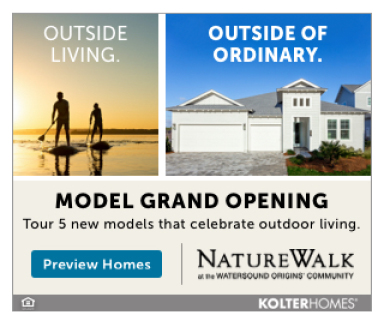 Wake Up Brother Bear and Disney's Frozen Jr. Provide Theater for Kids 
Emerald Coast Theatre Company continues its ninth annual season with several family-friendly entertaining productions this fall. "From six months old infants to teenager, we have quality, live theater for kids of all ages," says ECTC co-founder and producing artistic director Nathanael Fisher. "Come on out this fall and enjoy a fun and entertaining evening with your children."
Emerald Coast Theatre Company's Professional Theatre for Young & Very Young Audiences showcases professional actors performing productions on ECTC's Main Stage especially selected for young audience members.
"Wake Up Brother Bear"
Theatre for the Very Young: Interactive Theatre (ages 6 months to 5 years-old) November 19, 20 at 9 a.m.
Join Brother and Sister Bear as they experience a full year of glorious seasons. Together we see a waterfall melt, meet a butterfly, chase an elusive fish, and skate on an icy pond. Children are invited to participate in the action with a small bag of props that help create magical moments.  This interactive live show is performed with the youngest of audience members in mind.
Theatre for the Very Young (TVY) productions are $15 for adults, $13 for students, $10 for children four through twelve, and free for three years old and younger.
ECTC Mini, Little, and Big Players Present: "Disney's Frozen Jr."
Big Players November 12 & 13, 7 p.m.; Mini/Little Players November 13, noon & 2 p.m.
The enchanting modern classic from Disney is ready for your Broadway Junior stars. "Frozen Jr." is based on the 2018 Broadway musical, and brings Elsa, Anna, and the magical land of Arendelle to life, onstage. The show features all of the memorable songs from the animated film, plus five new songs written for the Broadway production. A story of true love and acceptance between sisters, "Frozen Jr." expands upon the emotional relationship and journey between Princesses Anna and Elsa. When faced with danger, the two discover their hidden potential and the powerful bond of sisterhood. With a cast of beloved characters and loaded with magic, adventure, and plenty of humor, "Frozen Jr." is sure to melt even the coldest heart.
Tickets for Educational Program shows are as follows: ECTC Kids Program tickets are $14 for adults, $12 for students, $8 for children 4 to 12, free for 0-3 years old and they must sit on an adult's lap.
All productions listed will be staged at Emerald Coast Theatre Company's space located at 560 Grand Boulevard (upstairs) in Grand Boulevard Town Center in Miramar Beach.
ECTC is implementing a Safety Protocol Plan to ensure patrons can enjoy all offerings in a safe environment. Visit emeraldcoasttheatre.org/ectc-safety-protocol for the latest updates.
To purchase tickets, make a tax-deductible donation, volunteer, or learn more about Emerald Coast Theatre Company, find them on Facebook, follow the ECTC YouTube channel, call (850) 684-0323 and visit www.emeraldcoasttheatre.org.