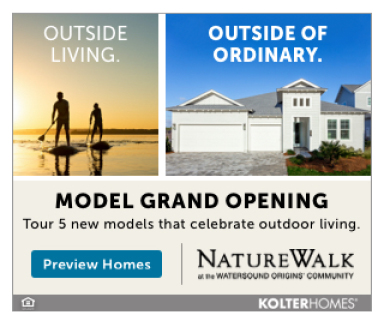 April Wednesday Night Concerts: The Tribute Series
Wednesdays through
April 27, 7-9 p.m.
Sit back and relax as you take in the cool crisp air and enjoy live entertainment. This concert series features both local and regional talent from a variety of genres. Concerts begin at 7 p.m. on the Events Plaza Stage each Wednesday!
April 13: The Long Run – Eagles Tribute
The Long Run is made up of some of Florida's finest and most respected musicians. Individual members of the band have performed with or shared the stage with great artists such as Lynyrd Skynyrd, Steppenwolf, Eddie Money, Beach Boys, .38 Special, Doobie Brothers, Trace Adkins…just to name a few. The Long Run reproduces the sound that made the Eagles one of the most successful musical groups in rock and roll history. They capture the energy, guitar technique and vocal harmonies of the Eagles to an art; five voices blending together that will please even the most critical of Eagles fans. You won't hear a tribute to the Eagles this great till "Hell Freezes Over."
April 20: Rust & Gold – Neil Young Tribute
Started by Nic Turner, Scott Rockwood, Shawn Hartung, Dan Hall and Roberto Padron, RUST & GOLD had emerged as an extremely accurate tribute band. Rust and Gold is a band that pays tribute to the music genius of Neil Young covering his greatest hits from past to present. Rust and Gold is one of the most authentic sounding Neil Young tributes in the world, keeping to his creative sound and vocals. From the harmonica tunes and unique acoustic, to the electrifying sound of "Cortez The Killer" Contact us at 850-502-1958 Rust & Gold is planning on it 2022 tour with Mel Senter, David Beaver and Cameron Mitchell.
April 27: Greggie & The Jetts – #1 Elton John Tribute
Greggie & The Jetts have, so far, entertained in the southeastern U.S., with big plans for widespread concert dates approaching. The band would like to thank all of the venues that have booked them thus far, including: Brevard Parks & Recreation, Captain Hiram's Resort, Commons Park, Crest Theatre, Floridian Social Club, "Get Your Teach On" National Convention, Hard Rock Cafe, Heritage Isle, Kenny D's, Landings Club Savannah, Marriott World Center, Meg O'malley's, Old Cypress Resort, Pineapples E.G.A.D., Seaworld Orlando, Sugden Park (Fallen Officers), The Moon Tallahassee, Trump Golf Resort And Spa, Tipsy Tiki, Victory Casino Cruises, Visani Theatre, Wickham Park Pavilion, Wild Rover Brewing Company.
All concerts are FREE to attend.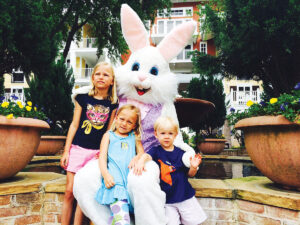 Easter Explosion!
Saturday, April 16th,
12-3 p.m.
Bounce on over to the Village of Baytowne Wharf for an Easter Explosion, Saturday April 16th! Enjoy a day filled with family friendly entertainment, face-painting, arts & crafts, and more! Plus live music! Also, don't forget to get your picture taken with the Easter Bunny!
Bubbly Baytowne
Thursday, April 21,
5-7 p.m.
Join The Village of Baytowne Wharf for an evening full of FREE champagne and shopping during its Bubbly Baytowne. Sip and Shop through the village streets! Stop in various retail merchants as you enjoy a selection of premium champagnes.
* This event is free and for 21 and up only. The village will be open to the public during this event.
SAVE THE DATE!
Alissa Steffens Vocal Studios presents a Spring Concert
Tuesday, May 10th, 7-8:30 p.m. | Events Plaza Stage
All Invited! Please join Vocal Coach Alissa Steffens and some of her very talented students as they present a night of music! All Genres! Performers are Kids through Adults! May 10th at 7pm. Location: Baytowne Amphitheater! (Next to Zip Line) It will be a night to remember! Come on out and support local talent! Open to the public! No charge. Grab a chair or blanket and enjoy the evening! Can't wait to see you there!
Coach Alissa Steffens is a Performer, Professional Songwriter, Recording Artist and Vocal Coach with a history rich in the Nashville Music Industry! After moving to Sandestin/30a area a few years ago, she continued her work as a Vocal Coach, specializing in Mentorship, Vocal Performance, Songwriting, Artist Development/Career Planning, Acting and Speaking. Alissa works with students regionally, nationally and internationally. Her students sing all different musical genres and range from the Beginner to the Advanced Career Artist. She and her students work on various projects together that involve vocal performance, songwriting, albums, tours, career planning, artist development, commercials, film acting projects, theatre, speeches, etc. Alissa has a big heart for giving her students both a voice and a platform.
The Village of Baytowne Wharf events are FREE to attend. Don't miss the fun!