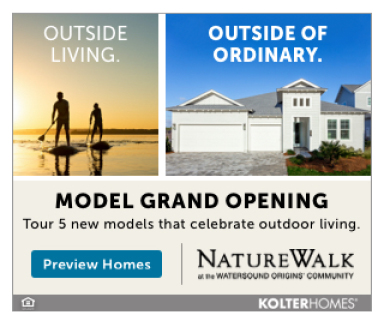 Thump! Thump! Thump! The sounds of wagging tails return to Destin Commons as local nonprofit Dog-Harmony prepares for the fourth annual Hops for Hounds dog walk. On September 12th from 11 a.m. to 1 p.m., paws will hit the pavement for this family-friendly walk and after party.
"We always have a blast with our furry family members at Dog-Harmony events," said Nancy Bown, founder of Dog-Harmony. "But, Hops for Hounds continues to be one of the most exciting events we put on each year, and we have some incredible new features in store to make 2021's event the best one yet."
For $35 per person, the first 100 registered walkers will receive a swag bag sponsored by BOTE and have the opportunity to meander through Destin Commons with their furry family member while stopping at Hops Sponsor stations to try various local beer from favorites like Destin Brewery, Props Craft Brewing, 3rd Planet Brewing and Strange Colt Brewery.
"The breweries that are participating are some of the best in the area," said Janie Schmidt, chairperson of the Dog-Harmony board. "You're definitely going to want to visit each and every station."
Once walkers have stopped at each beer station, they can pad over to the afterparty at El Jalisco, which is donating 10 percent of the proceeds from the day to Dog-Harmony, to purchase food and drinks to finish off the day with their fur-ever friends. Sponsors, like Step One Automotive Group and BOTE, will be stationed at the afterparty to greet walkers and their four-legged companions, too.
"You're definitely going to want to grab a bite to eat at El Jalisco and then check out the vehicles and paddle boards Step One and BOTE are planning on bringing out," said Schmidt. "They're perfect for adventuring with your pups, and they have plenty of tips and tricks for dog owners and their products that I'm sure they'll be sharing throughout the event."
Other sponsors include Gulfshore Air Conditioning & Heating, McCaskill & Company, JC's Gourmet and Emerald Coast Chiropractic. Dog-Harmony is still accepting sponsors for this event, and all proceeds will benefit Dog-Harmony to fund its mission of helping dogs rescue people.
Through humane education programs that address the main reasons dogs end up in shelters, Dog-Harmony works in our local community to keep dogs out of shelters and in happy, healthy homes, with children's programs and animal-assisted therapy playing a key part in this mission.
"It's going to be an incredible morning that those attending will get to spend with their fur-babies," said Bown. "It's also a perfect event to take a moment to give back to help other dogs in our community that need our help."
Dog-Harmony was started by Bown, a certified professional dog trainer (CPDT-KA), to help 'train' people as well as their pets to build lasting positive relationships between canines and humans. The nonprofit focuses on humane education programs, such as children's bite prevention workshops, and low-cost, positive dog training to create a healthier environment for humans and dogs in our community.
Last year, Hops for Hounds raised more than $8,000 for Dog-Harmony through sponsorships, ticket and raffle sales as well as donations made at the event. And this year, Dog-Harmony's goal is $10,000.
"Our goal is pretty aggressive," said Schmidt. "But, I believe through the incredible generosity of our community, we can hit that goal and use that funding to continue our incredibly important work in this area."
For more information or to register as a walker and purchase your ticket, visit www.dog-harmony.org/events. To partner with Dog-Harmony as an event sponsor, call 850-376-4190 or email hello@dog-harmony.org.