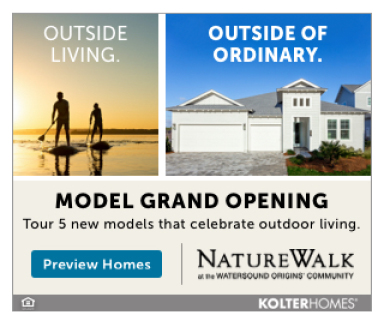 When asked in a recent interview, "Why do you want a seat on the Walton County Board of County Commissioners," South Walton resident David Buchanan had a very unique answer: "Our county and community, just like our country, need Godly leadership," he said. "My mom taught me to always leave a place better than I found it. I want to continue to build on what the people before me have done, to leave an incredible Walton county to my children and grandchildren."
For those who know David Buchanan, we recognize a history of integrity, humility, generosity, hard work and common sense. His upbringing in Alaska by a military veteran and a private school founder & principal taught him the value of hard work and initiative. Since moving to Walton County in 2005, David has served the community through his home church, Destiny Worship Center in Miramar Beach. He has been honored to deliver meals to people in need, provide Christmas presents for children in foster care, pack backpacks for the church's "back to school" program for disadvantaged children, and lead young adult and youth ministries. He has also volunteered with the Muscogee Nation. For 5 years, David faithfully organized volunteers and crafted sermons to deliver to the residents in two local nursing homes; his heart was to bring a quality worship experience to those who couldn't physically attend church.
"Our community will be well-served by Dave Buchanan as a County Commissioner,"  Says Steve Vaggalis, lead Pastor of Destiny Worship Center, headquartered in Miramar Beach. "I have known Dave for almost 20 years, He has an impeccable character that shows in every area of his life, from his wholesome family to his integrity in business and his wholehearted walk with Christ. He has lived in this area and watched it grow into a place that so needs his wisdom and dedication."
In 2016, he married Natasha. She and her two daughters had recently become a Gold Star family when her Green Beret husband was killed in Afghanistan. Shortly after the wedding, David joyfully adopted both girls, simultaneously becoming both a husband and a father. Over the next several years, they had two more children together. As the son of a veteran and husband to a Gold Star wife, veterans and active duty military are close to David's heart. As a father of school-age children, David is actively pro-parent.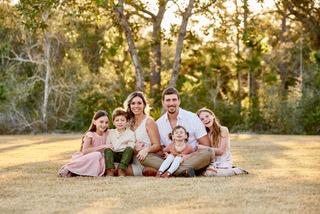 When David first moved to Florida, he put his business degree to work by earning his General Contractors License and founded his home building company, Buchanan Builders. As a small business owner, 17 year resident, builder, home owner, and real estate agent, David has an understanding of the immediate needs and challenges facing Walton County. "As a builder and contractor, I can see Walton County is five years behind development of adequate roads and infrastructure," he says. "Walton County needs more than just managers. Managers are those who make decisions; Leaders are those who have a vision for the future. I want to make decisions not just for today, but for plans that look 5, 10 and 20 years ahead."
Another priority for Buchanan will be to see higher paying jobs brought into the North and South ends of the county through economic growth and development. "We can attract new businesses by providing an attractive infrastructure of schools, better access to hospitals & medical facilities, usable green spaces, obtainable housing and functioning roadways. And, I applaud our Superintendent of Schools for his development of a vocational training program for suitable students in the County."
"With the current rapid growth of the area, it is imperative we ensure that our teachers, firefighters, nurses, grocery store workers, and other valued workforce members can afford to live in the community they work in. My desire is to work with developers to provide increased access to obtainable housing."
Finally, running a small business has given David valuable financial management skills. "Development is happening in Walton County; Someone once made room for you and I to live here; so let's make room for others too, while preserving what has made this area such a wonderful place to live in. Healthy things grow, so it is imperative that we grow responsibly."
Republican and Democrat Primary Elections will be held Tuesday, August 23rd.
For more information, please visit www.buchananccd4.com.