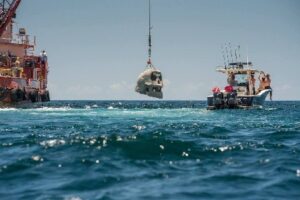 Due to COVID-19 response, the Cultural Arts Alliance of Walton County (CAA) was unable to host its annual Under the Sea fundraiser that normally helps cover the cost of the Underwater Museum of Art (UMA) sculpture deployment. So in true 2020 fashion, the CAA is taking it virtual and inviting everyone to support the nation's first and only permanent underwater museum.
The Under the Sea campaign will begin December 1st at 7:00 AM CST at facebook.com/CulturalArtsAlliance. In support, Facebook is partnering with PayPal to match the first $7 million in donations to all participating non-profits, and supporters are encouraged to give early in the day to ensure matching funds are secured for the UMA campaign. Sculpture sponsorships are also needed, and the first five donations of $3,000 or more will be named as sponsors of the remaining sculptures.
Named in 2018 by TIME Magazine as one of 100 "World's Greatest Places," the UMA is presented as part of the CAA's Art In Public Spaces Program in partnership with South Walton Artificial Reef Association (SWARA). The UMA's purpose is to create marine habitat and expand fishery populations through art while providing enhanced creative, cultural, economic and educational opportunities for the benefit, education and enjoyment of residents, students and visitors in South Walton.
"As we attempt to bring uninterrupted services to the community, the cancellation of our in-person programs and events has been crippling to the CAA's fundraising efforts," said CAA Executive Director Jennifer Steele. "I ask all of our regular supporters and those who are new to the Underwater Museum of Art to help ensure the success of the 2021 deployment. The UMA is a special asset unique to Walton County and Florida, and it is important to ensure its viability, especially during this irregular fundraising year."
With support from Visit South Walton, Visit Florida, The National Endowment of the Arts, Florida Department of State Division of Cultural Affairs, Alys Foundation, 30A Company, and Hilton Sandestin Golf & Beach Resort, eight UMA sculptures will be deployed in Spring 2021 joining the existing seventeen sculptures located on a one-acre permit patch of seabed off Grayton Beach State Park.
The sculptures quickly attract a wide variety of marine life and, over time, evolve into a living reef. This eco-tourism attraction entices art lovers and divers from around the country and the globe, provides a much-needed habitat for local marine life and fisheries; and gives marine scientists, wildlife management professionals, ecologists, and students an opportunity to study marine life and measure the impact of artificial reef systems on the Gulf ecosystem.
GivingTuesday was launched in 2012 as a simple idea: to create a day that encourages people to do good. Over the past nine years, this idea has grown into a global movement that inspires hundreds of millions of people to give, collaborate, and celebrate generosity.
"GivingTuesday inspires people all around the world to embrace their power to drive progress around the causes they care about, not just on one day but throughout the year." said Asha Curran, GivingTuesday's CEO, and co-founder. "With country and community leaders, millions of organizations, and countless givers of all kinds, GivingTuesday is creating a shared space where we can see the radical implications of a more generous world."
Those who are interested in joining CAA's GivingTuesday initiative can visit the CAA's Facebook page (facebook.com/CulturalArtsAlliance). For more information about the CAA and to become a Member, visit CulturalArtsAlliance.com.
For more details about the GivingTuesday movement, visit the GivingTuesday website (givingtuesday.org), Facebook page (facebook.com/GivingTuesday) or follow @GivingTuesday and #GivingTuesday on Twitter.
###

ABOUT CULTURAL ARTS ALLIANCE:
As the creative core of Walton County, the Cultural Arts Alliance (CAA) of Walton County offers support, connection and access opportunities for all forms of art, every variety of maker, all levels of learners, and especially, art lovers. Through sponsorship, performance, and educational programs, the organization directly connects the people of Walton County with the broader view, the critical exploration, and the answers only the Arts have the power to provide. For more information, visit CulturalArtsAlliance.com.
ABOUT GIVINGTUESDAY
GivingTuesday is a global generosity movement unleashing the power of people and organizations to transform their communities and the world. GivingTuesday was created in 2012 as a simple idea: a day that encourages people to do good. Over the past eight years, it has grown into a global movement that inspires hundreds of millions of people to give, collaborate, and celebrate generosity.
Whether it's making someone smile, helping a neighbor or stranger out, showing up for an issue or people we care about, or giving some of what we have to those who need our help, every act of generosity counts and everyone has something to give. GivingTuesday strives to build a world in which the catalytic power of generosity is at the heart of the society we build together, unlocking dignity, opportunity and equity around the globe.