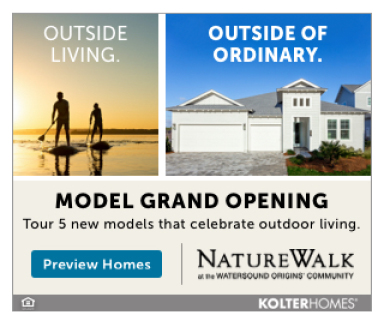 The Choctawhatchee Basin Alliance Expands Fishing Line Recycling Program in Walton County
By Micaiala Hamner and Erika Zambello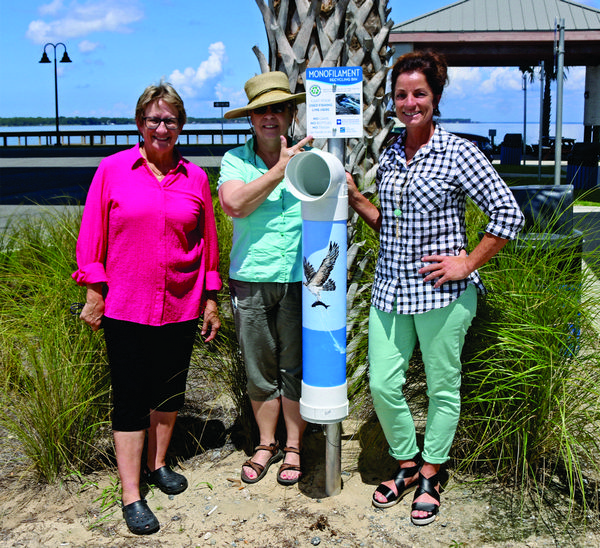 Walk onto a fishing pier in Okaloosa and Walton Counties this summer and you may see a gorgeously decorated monofilament recycling bin painted with images of fish, mermaids, birds, or other real and imagined marine life. The fishing line recycling program, an initiative of the Choctawhatchee Basin Alliance (CBA), combines artistry and function to eliminate the accidental distribution of fishing line on nearby beaches and shorelines, while calling attention to the negative impact of fishing line entanglement on local wildlife. CBA is working with local artist Joan Vienot and Walton Outdoor publisher Lori Ceier to expand this unique recycling program and install new recycling receptacles in Thomas Pilcher and Cessna Parks.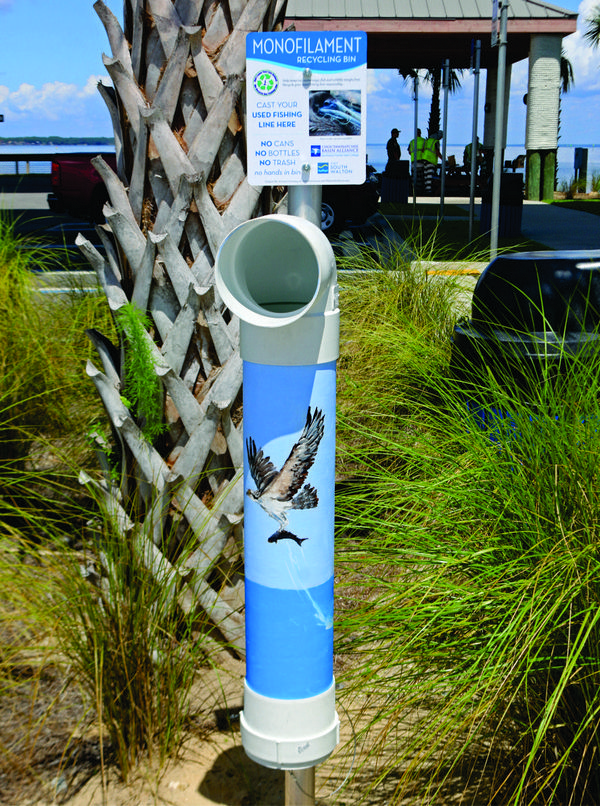 Ceier frequently visits Pilcher Park, and noted the need to properly recycle fishing line. She approached CBA, offering to bring Vienot on board to decorate the bins.
"My favorite part was the design, I think we both enjoyed that. The birds we chose are native to the area. There are a cormorant, great blue heron, and osprey," explains Ceier.
The Cessna and Pilcher Park bins were placed in partnership with the Walton County TDC, and are equipped with an opening for monofilament disposal – which is collected by CBA staff and volunteers – and an educational sign about monofilament fishing line recycling. When accidentally thrown into our coastal areas, the plastic strands not only entangle marine mammals and aquatic species, but can also be harmful to humans. Unfortunately, fishing line is created from slow degrading plastic that takes over 600 years to break down.
The monofilament recycling project makes an important impact on the environment and the community. Frequent beach goers know that marine debris is one of the biggest challenges facing the Gulf of Mexico and oceans. Plastic bags, fishing line, and hooks are nearly always present on both piers and along nearby coastlines. By empowering anglers to recycle while they are fishing, the decorated receptacles act as a self-teaching mechanism that allows families, fishermen, and visitors to become active participants in conservation.
The monofilament recycling program has grown since its founding by the 2014 Destin Forward class. CBA now has 19 fishing line recycling receptacles throughout the Choctawhatchee Bay area. Working with the Destin Fisherman's Co-op to host the recycling line drop-off point for all of CBA's receptacles, the program strives to reduce the amount of the flexible plastic commonly found near the shoreline and educate the public on the harmful effects this type of marine debris.
"The decorated recycling bins are an attractive solution to throwing away fishing line," says Alison McDowell, CBA Director, "They beautify the fishing piers and allow easy recycling of monofilament." These monofilament recyclers have become an emblem for beach restoration projects and counter the spread of plastics in the ocean.