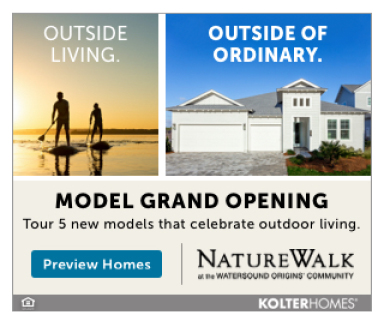 The Emerald Coast is home to some of the most diverse and dynamic ecosystems in the world, so abundant with marine life that it is no surprise that it attracts anglers from all over. Our waters, stretching from rivers to the Gulf, host some of the best fishing on the planet. However, this area and many other coastal towns are experiencing a common trend, tangles of forgotten fishing line harming local wildlife and humans. You can help prevent this by recycling your fishing line with Choctawhatchee Basin Alliance's (CBA), monofilament recycling program.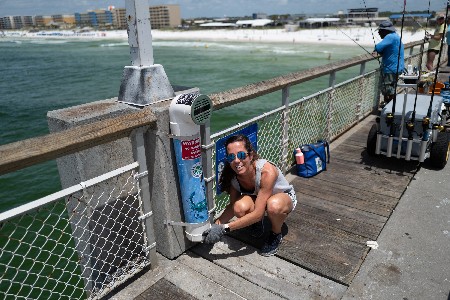 Monofilament–or simply fishing line–is made of a single plastic strand, designed to hold tension and stay strong in harsh saltwater conditions. First introduced in the 1950's, this type of tackle is the most common and effective line for catching fish from bluegill to blue marlin. Monofilament is designed to be strong, invisible, and not break down in saltwater. Unfortunately, monofilament's strength and durability becomes dangerous when the line is improperly discarded.
When line is lost or littered into the water, it can become an invisible, free-floating entanglement hazard that can last upwards of 600 years. Just think of it—600 years ago, Leonardo DaVinci painted the Mona Lisa! These bunches of littered fishing line are dangerous and deadly to marine life such as turtles, dolphins, fish, birds, sharks, manatees and even scuba divers and beachgoers. When an animal becomes entangled in this strong and virtually invisible hazardous plastic, it becomes trapped and unable to move, hunt, or even breathe in many instances.
Fishing is part of our culture and history here in the Florida Panhandle; historically, the area has been one the largest Red Snapper fishery in the world! Moving into the future, as we expand the numbers of people fishing our waters, it is equally important that we as a community deploy responsible practices for discarding old tackle. The Choctawhatchee Basin Alliance (CBA) has led the way by setting up monofilament recycling stations all along the Bay. You may have seen one of these PVC tubes, beautifully painted by local artists, along the Destin Harbor or the Okaloosa Island Pier.  CBA will be hosting new sites on the Choctawhatchee River, as well as new shore-fishing recycle bins on the Gulf. CBA takes this plastic line from the monofilament recycling program stations, cleans and collects it, and sends it to be recycled into fishing tackle. Anyone in the community can be a part of this "responsible fishing movement." Simply by recycling undesired fishing lines, you can make a lasting impact on our waterways and greatly reduce the number of entanglements of humans and wildlife. To learn more about Choctawhatchee Basin Alliance and programs that benefit our waterways, visit basinalliance.org. If you would like to volunteer to collect fishing line for recycling, email Brennan Wehrhahn at wehrhahb@nwfsc.edu.