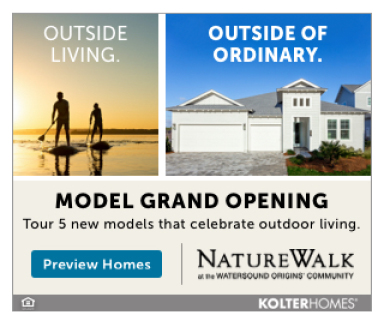 By Rita L. Sherwood
Whether you're a local or not, one major issue with our beautiful beaches here on the Emerald Coast, is helping the sea turtles. If you've been to the beach, I bet you've either seen an area roped off for a sea turtle's nest, seen a sign to fill in any holes on the beach, or maybe even encountered a volunteer asking you to pick up your trash.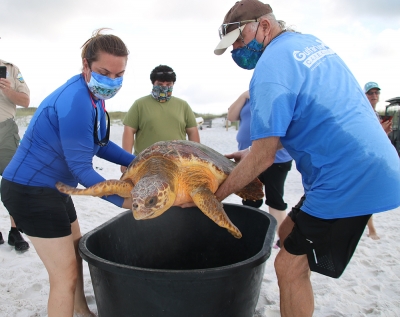 We all know the phrase: "Clean, dark, flat." Clean: we can all do our part to protect the sea turtles by keeping the beach clean by removing all of your belongings, including trash when you leave the beach, leave no trace. Dark: artificial light disturbs nesting sea turtles and hatchlings, so turn off all lights on or near the beach. Flat: When you leave the beach each day, please knock down any sandcastles and fill in any holes.
We're so passionate about the sea turtles that we even have a local celebrity, a stuffed animal named Theo. Who is Theo? Theo the turtle of South Walton is a lovable, plush turtle with a mission, to help protect and sustain the threatened sea turtle population along the Gulf Coast of Florida. Theo from theotheturtle.com says, I'm a little turtle on a big mission, I'm here to save my fellow threatened sea turtles!" Help support the cause, as a portion of every Theo purchase from ball caps and pillows to Christmas ornaments and key chains, goes directly to help support the Friends of South Walton Sea Turtles as they work selflessly to promote sea turtle conservation through education and awareness. Follow them on Facebook for more updates.
Our very own Gulfarium on Okaloosa Island known as the Gulfarium Marine Adventure Park has been active in marine animal rescue and rehabilitation for many years. The C.A.R.E. Center was developed in 2015 as a non-profit to facilitate and further their continued coastal conservation efforts. The program has helped to rehabilitate and release various species of sea turtles found in the Gulf Coast, from the Loggerhead, Green, Kemp's Ridley, to the Leatherback. Over the years hundreds of sea turtles have been rehabilitated and released back into the wild by the Gulfarium.
In fact, their mission is to act as a beacon for coastal conservation through marine animal rescue and rehabilitation, encouraging awareness with public education and opportunities for active participation.
If you break it down further, to conserve is to ensure the future of marine animals and their habitats. To act is to play an active role in marine conservation. To rehabilitate is to support marine animal rescue, recovery and release. And to educate is to inspire awareness for marine conservation issues.
Rehabilitation starts when a sea turtle patient arrives; it is evaluated by animal care and veterinary staff using guidelines from the Florida Fish and Wildlife Conservation Commission. These guidelines give their staff the necessary information needed to evaluate a method for rehabilitation, recovery, and release.
Although every effort is made to release the turtle back to the ocean, occasionally a sea turtle is deemed non-releasable due to medical or physical limitations. These turtles are given a permanent home and full-time care at the Gulfarium C.A.R.E. Center.
Along with the turtles being rehabilitated for release, Gulfarium Marine Adventure Park is also permanently caring for two Loggerhead sea turtles. They both originally were stranded along the beaches of the Emerald Coast and have now been deemed non-releasable due to medical or physical limitations. On the website Gulfarium.com, click on "Meet Our Animals" and learn about rescued sea turtles and other animals that call the Gulfarium home. Also, be sure to check out the FAQS about what to do when you find a stranded sea turtle. Release stories can also be found online about two leatherback sea turtles, as well as the story of Ivy, Kale, and Hazel, the three green sea turtles full of fishing hooks who have completely recovered. The stories of Captain Hook, Wendy and Tinkerbell, Aaliyah and the three loggerhead hatchlings are also on the website.
The C.A.R.E. team's rehabilitation efforts are funded in part by a grant awarded from the Sea Turtle Grants Program. The Sea Turtle Grants Program is funded from proceeds from the sale of the Florida Sea Turtles License Plate. So go get a new license plate, I know I am! Learn more at www.helpingseaturtles.org.
Follow the C.A.R.E. Center on Facebook as well, and their rehabilitation facility and hospital are in need of some items that will help further support the care of their current and future patients. If you would like to help the C.A.R.E. center by purchasing any of these items, please take a look at their Amazon wish list at https://a.co/hb3ghy4. They would greatly appreciate your support!
What about volunteering? If you enjoy working with people and love animals, Gulfarium C.A.R.E. Center may be the perfect place for you to volunteer.
Sea Turtle Rehabilitation Volunteers may have the opportunity to assist the Gulfarium C.A.R.E. staff with a wide variety of tasks supporting the C.A.R.E. mission. Volunteer duties may include taking part in the daily husbandry of sea turtle patients, educational interpretation, maintenance of the rehabilitation areas, and report preparation. Assigned responsibilities will be based on prior experience, educational background, and physical capabilities. Currently, they can only accept applicants who are 18+ years.
We can all do our part to protect these amazing marine animals; after all, it was certainly their beach first! Again for more information, check out the websites and Facebook pages.