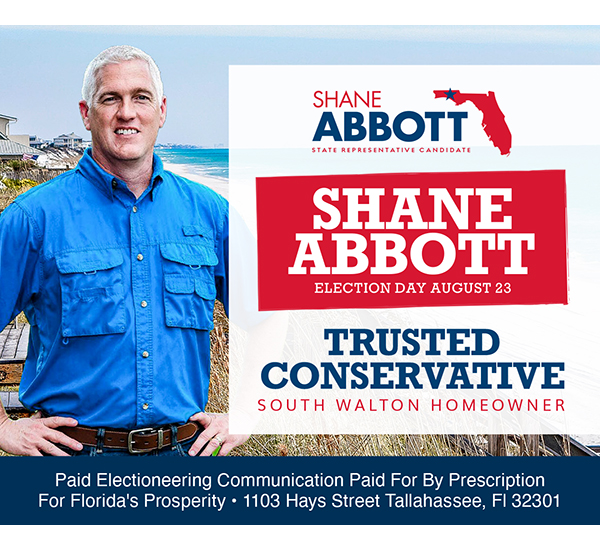 George's at Alys Beach is located in, as you guessed it, Alys Beach on Highway 30A, and it was established in 2008. The building that George's resides in was formerly known as the restaurant Sandor's, and it was relocated from Seagrove Beach to Alys Beach in April of 2008- (For those of you who are interested in this story, there are pictures from this move in the restrooms at George's). Executive chef Camille Whithall and sous chef Faheem Maolud work together to create delicious and picturesque dishes for tourists and locals alike.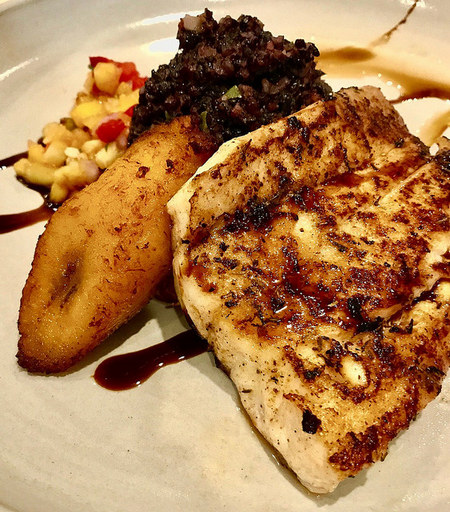 Chase, my fiancé, and I each ordered a glass of Dr. Loosen Riesling and the tuna poke lettuce wraps to begin our dining experience. The tuna wraps with yellow beets, jalapeno-watermelon marinade, and caramelized onion crema, coupled with the fresh tuna, made for a very light and refreshing appetizer. We also ordered an arugula salad, and for something that is very simple, it packed a lot of flavor! The lychee-hibiscus vinaigrette dressing and toasted pecans combined with the blue cheese and shallot confit, married well together.
Joe, the general manager, came to check in on us frequently and to make sure that we were enjoying the food and drinks while simultaneously filling us in on the restaurant's background and chefs. Our waitress, Natalia, was extremely helpful with recommendations as well as making sure that we did not need anything further. The service was phenomenal, and the wait staff was extremely friendly.
Chef Camille has been with George's for nearly four years while sous chef Faheem has been with the restaurant nearly three. The duo had just recently redesigned their menu for their summer season, so Chase and I were both torn on whether we should try one of their signature staple dishes or one of the their newer selections. Ultimately, we decided to order a dish from each. Chase went with the jerk crusted gulf snapper, a decision that he did not regret. The flavors of the Caribbean challenged the taste buds in George's second most popular dish, and is served with pineapple salsa over forbidden black rice complete with plantains; just phenomenal!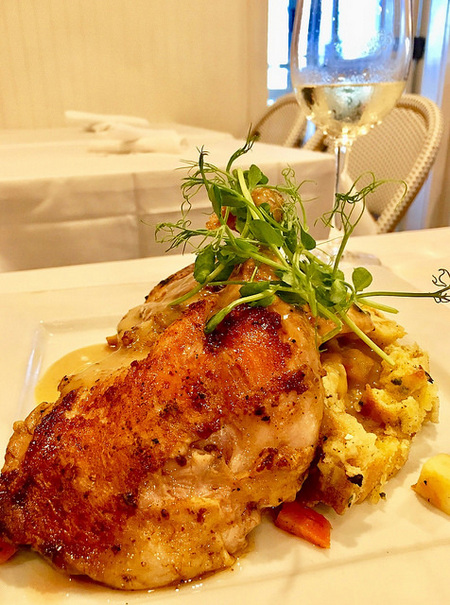 My entree, on the other hand, was part of the new menu. After much debate between the scallops and the chicken, I decided to go with the chicken. Very aptly named "Sunday Roast Chicken," this dish was by far the most tender that I ever tasted. Simply prepared quality ingredients made each savory bite better than the next. It was out of this world! The chicken definitely tastes like something that your grandmother would make on a Sunday afternoon after church. Nestled over delicious savory bread pudding and drizzled with pan gravy, I can honestly say it was one of the best dishes that I have ever tried, hands down; words do not do this dish justice!
Both of our entrees were generously sized, but magically, we somehow still had a little room for dessert. After perusing at the dessert menu for a solid ten minutes, my eyes kept coming back to the hummingbird cake and the warm chocolate toffee goo (which is their most popular dessert dish). The cake, which contains brown butter cream cheese frosting, edible flowers, and candied pecan nut crumb, is very light and sweet; it vaguely reminds me of bananas foster, except lighter. The chocolate goo, as you probably would have guessed, is full of chocolate –it sweetly boasts a chocolate brownie topped with unctuous ice cream, chocolate sauce, and chocolate mousse. This dish is any dessert lovers dream –chocolate heaven! All in all, our experience with George's was absolutely delightful. Everything from the food to the atmosphere to the friendly wait staff makes this a great place to dine for the perfect date night or a night out with the entire family.
George's is located at 30 Castle Harbour Drive in Alys Beach, which is right off of 30A. They do not accept reservations and operate on a first come, first serve basis. For any further questions, please contact George's at Alys Beach at (850) 641 0017 or http://georgesatalysbeach.com.