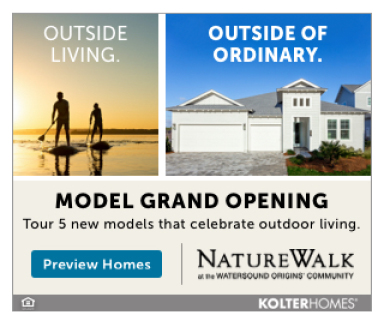 Art Month South Walton
Mon., May 2-31
Activate your imagination at Art Month South Walton, an initiative of the Cultural Arts Alliance of Walton County. Come and experience a collaboration of visual, performing and literary arts events presented in diverse formats and various venues throughout South Walton, located along Northwest Florida's Gulf Coast. Spanning the month of May, Art Month South Walton includes Under the Sea: a fundraising event for the Underwater Museum of Art, South Walton Street Art Festival, Digital Graffiti Festival, Longleaf Writers Conference, Artist Receptions and more! Get all the details at CulturalArtsAlliance.com.
Digital Graffiti at Alys Beach
Fri., May 13-14
Digital Graffiti at Alys Beach is a one-of-a-kind projection art festival where artists use the latest digital technologies to project their original works onto the iconic white walls of Alys Beach. The 15th Annual Festival takes place May 13-14, 2022. The festival opens on Friday night, May 13th, with an all-inclusive food and beverage experience for adults (21+). Stops along the event path will feature samples by local and regional chefs, winemakers, distillers, and breweries, culminating in a festive gathering around Caliza Pool where art and architecture provide a dynamic backdrop for cocktails, music, and conversation. The closing evening of the festival, Saturday, May 14th, is a family-friendly experience with local food trucks and vendors providing food and beverages for purchase along the festival footprint. With the event winding through Alys Beach from 30A up to Caliza Pool, this all-ages event is a lively, engaging celebration of art and architecture. This event is open to all ages. 9581 E County Hwy 30A, Alys Beach, FL 32413.
Scratch Biscuit Kitchen Brunch & Live Music
Saturday, May 14, 10:00 am to 1:00 pm
Scratch Biscuit Kitchen, located in WaterColor Town Center, invites you to enjoy brunch featuring live music every Saturday from 10AM – 1PM. It's hard to compete with biscuits, brunch and beats near the beach! May 14 | Tanner Gray, 21 | Joey Shaling, 28 | Mike Whitty.
Seaside Lyceum Lawn Cinema
Sunday, May 15, 8:00 pm
Grab a blanket and come out to Seaside on Sunday night for Lyceum Lawn Cinema, a movie on the lawn under the stars. Free and open to the public. Show begins at 8:00 PM.
Movies Include: May 15 | Parent Trap, May 22 | Angels in the Outfield, May 29 | Mcfarland USA. Lyceum Lawn, Seaside, FL,
Topsail Hill Preserve State Park: Guided Plant Stroll
Monday, May 16, 9:00 am to 11:00 am.
Join Topsail Hill Preserve State Park and Master Gardener Bill Kuenstler on the third Monday each month from 9:00a.m. – 11:00a.m for a Guided Plant Stroll.  Take a stroll through the park and the campground to explore the plants visible and to see what is in bloom. Visitors will learn about some of the plant species here at the park. Topics for the hike will vary based on the time of year and growing season. The program is on the third Monday of the month. This program is free with regular park admission. 7525 W. Scenic Highway 30A, Santa Rosa Beach.
Splash & Dash 5K Run & 2.5K SUP Race
Saturday, May 21, 7:00 am
The Splash & Dash 5K Run & 2.5K Paddle will be taking place on Saturday, May 21st.  A collaborative effort between the Rotorhead 30A Running Co and RUN/SUP, The Splash & Dash offers participants the option to participate in a 5K Run and/or a 2.5K SUP (Stand Up Paddleboard) Race. Start time for the 5K Run will be 7:00AM and the 2.5K SUP Race will start at 8:15AM. The 5K Run will start and finish adjacent to the WaterColor BoatHouse, and will run throughout WaterColor primarily on its beautifully-groomed trails.  The 2.5K SUP Race will take place on Western Lake and finish underneath the iconic WaterColor bridge.  Participants will have the option to participate in the Run ONLY; the SUP Race ONLY; or both the 5K Run + 2.5K Paddle Race. To learn more, email; info@runsup.com.
ECTC: Jr. Thespian/Company Showcase
Saturday, May 21, 2:30 pm
Emerald Coast Theatre Company invites you to Jr. Thespian/Company Showcase, an exciting showcase featuring group and solo works by talented ECTC teens on May 21 at 2:30PM. This performance will include classic and contemporary musical theatre pieces, improv, and comedic and dramatic selections. A great "dramatic" afternoon out for all ages. For additional info, visit www.emeraldcoasttheatre.org.    560 Grand Blvd (Upstairs), Miramar Beach.
30Avenue Concert Series
Wednesday May 18-31, 6:00 pm to 9:00 pm
Come out to 30Avenue for the Summer Music Series from 6:00 p.m. till 9:00 p.m. on the green. Enjoy live music with family and friends  under the stars in Inlet Beach, Florida. Guests are encouraged to bring a blanket or low back lawn chairs. May Schedule; 18 | Otha + Kristi,         19 | John Hart,,20 | Hunter & Tony, 21 | FoxPlay, 25 | Tanner Gray, 26 | Mat Hall Trio, 27 | Bo Adams & Friends, 28 | The Shakedown, 29 | Ken & Andi Johnson, 30 | FoxPlay, 31 | Tanner Gray & Mike Ingram. 12805 US Highway 98 E, Inlet Beach.
Locals Last Stand at Watersound Origins
Sunday, May 22, 3:00 pm to 7:00 pm
The Watersound Origins community will host 30A's annual Locals Last Stand party on Sunday, May 22nd from 3-7pm. The event will take place at Watersound Town Center Pavilion and will feature live performances by local artists. The concert is FREE and open to the public! The Live music schedule is as follows: 3 p.m. – 3:40 p.m. – Roshambo, 4 p.m. – 5:15 p.m. – Dion Jones and The Owsley Brothers, 5:30 p.m. – 7 p.m. – Dread Clampitt featuring Matt Miller. Local food trucks and vendors will also be available. Bring lawn chairs and blankets to enjoy an afternoon and evening of fun at the Watersound Town Center. For more info, visit www.localslaststand.com.
Boomin' Tuesday at The Village of Baytowne Wharf
Tuesdays, May 24 – August 9th, Music: 7:15 – 9:15PM | Fireworks: 9:15PM
The Village of Baytowne Wharf is hosting a Boomin' Tuesday extravaganza every week. Enjoy singing and dancing with DJ Mike Whitty in the Events Plaza from 7:15 – 9:15PM. Then watch as they light up the night sky with a breathtaking fireworks show over the Lagoon at 9:15PM!
Fly Guy Thursday at Baytowne Wharf
Thursdays, May 26-August 11, 6:30 pm
Enjoy shows from fly-board extraordinaire Ben Merrell over the lagoon! Watch as he soars to the sky and makes waves on Thursday nights in The Village of Baytowne Wharf. Admission is FREE and open to the public. The Village of Baytowne Wharf is the heart and soul of Sandestin Golf and Beach Resort and the gathering place for many locals and visitors along the Emerald Coast. Learn more about shopping, dining, nightlife and events at www.baytownewharf.com.
Sinfonia Goes Pops & Fireworks at Alys Beach
Sunday, May 29, 7:30 pm to 9:00 pm
Celebrate the Memorial Day holiday weekend in Alys Beach at the Sinfonia Goes Pops concert. Fireworks to follow the show! Enjoy the orchestral sounds of Sinfonia Gulf Coast under the palm trees as the sun sets on the Gulf of Mexico. Bring blankets or low back chairs and grab a spot on the amphitheater lawn. Food and beverage available for purchase. Free and open to the public. Alys Beach Amphitheatre, Scenic Hwy 30A, Alys Beach.
Huck & Lilly @ Seaside Amphitheater
Tuesday, May 31, 6:00 pm to 7:00 pm
Huck & Lilly will perform LIVE in the Seaside Amphitheater Tuesdays and Thursdays from 6 – 7 PM. Bring a chair or blanket, snacks and drinks, and enjoy the show. Free and open to all ages. Singer/songwriters Ken Johnson and Andi Zack-Johnson as Huck and Lilly specialize in music for kids AND the grown ups who love them! Seaside Amphitheater, 25 Central Square, Seaside.
Camp Helen State Park: Guided Nature Walk
Thursday, June 2, 10:00 am
Camp Helen State Park invites the public out for a guided Nature Tour held each first Thursday of the month at 10am. Tour begins at the Visitor Center. Come out to learn about the rare coastal dune lake, Lake Powell, as well as the park wildlife. Hike is suitable for all ages. Dress for the weather; water and bug spray are recommended. This 180-acre park is for day use only. Activities include swimming, beachcombing, nature study, hiking and both freshwater and saltwater fishing. Camp Helen is located at 23937 Panama City Beach Parkway, just west of the Phillips Inlet Bridge on the Bay County and Walton County line.