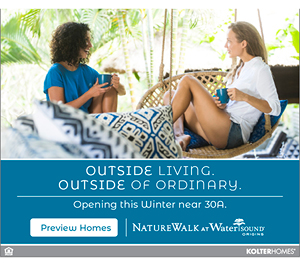 Visit South Walton is hosting several virtual live concerts featuring some of your favorite local musicians on their Facebook page as part of their #VirtualBeachVibes series. Visit their page at facebook.com/visitsouthwalton to find out more.
Watersound Origins is also featuring live local music in their #FrontPorchSessions. The next one is April 24 from 5-6 p.m. with Mike Whitty & Neil Sebree. Tune in at facebook.com/WatersoundFlorida.
Enlightened Studios hosts virtual concerts on a semi-regular basis at facebook.com/enlightenedstudios.
Maple Leaf Viral Sessions features Donnie Sundal of Boukou Groove Wednesday, April 29 at 8 p.m. Donnie has been hosting other live sessions as well. Join in at facebook.com/DonnieSundalMusician.
Chris Alavarado hosts live broadcasts every Friday, Sunday and Monday at 7 p.m. Join him at facebook.com/chris.alvarado.7798.
Helen Redd of Redd's Pub 'N Song sings live 6:30-8 p.m. Tuesdays, Thursday,s and Saturdays at facebook.com/reddsbar.
Chauncy Crandall hosts Saturday & Sunday brunch virtual concerts from 12 to 2 p.m. at facebook.com/Chauncy-Crandalls-Music-147512271936860.
Forrest Williams Band, Dannica Lowery, Matt Miller and many other local favorites have also been hosting virtual live concerts on their individual pages. Some national stars have also joined this trend. Check the Facebook pages for details.