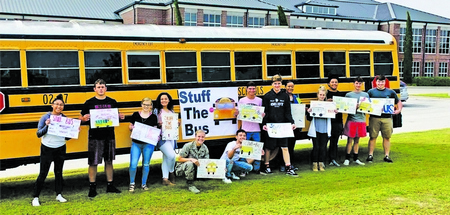 The effects of Hurricane Michael have been devastating to our neighbors to the east, and while most of our students, staff and families were only mildly impacted by the storm itself, the ripple after-effects can be felt throughout the district as new students enter Walton County schools to try to bring some stability and normalcy to their lives.  As of Tuesday, October 30, the district has already received approximately 170 new students due to Hurricane Michael. The administration, faculty, and staff at all our schools are working overtime to make sure students entering our district are placed quickly, and provided with the materials and assistance needed to ensure there is as little disruption to their academic progress as possible.  Once students are identified as displaced, schools are providing assistance with meals, clothing, school uniforms, school supplies, and making connections with agencies that can provide additional support in the areas of housing, medical, and food services outside of the school environment. Our Student Services Director, Dr. Randy Stafford, has indicated that our guidance departments are currently undergoing special training called Youth – Mental Health First Aid, a program designed to help providers recognize indicators of stress, anxiety, depression, and other symptoms that may develop and/or increase due to the effects of displacement and relocation. Dr. Stafford and his team are assessing need and have begun to formulate ideas on how to provide additional services to students and families who have been victims of the hurricane.
Superintendent Hughes has stated that "We are a District and Community of passionate compassion for children and families," and wants to recognize and thank all involved in the organized efforts of every school in the district as they have collected and dispersed truckloads of supplies and food to those in devastated areas to the east.  Our WCSD families, parent organizations, clubs, and district staff have joined in multiple initiatives to help provide relief for those in need. One of those many initiatives, the "Stuff the Bus" campaign sponsored by all 4 of our WCSD high schools, was a huge success as students, staff, and community members loaded buses parked at each high school location with relief supplies that were delivered to areas in Bay, Calhoun, Holmes, Jackson and Gulf counties.  These buses will reload and provide continuous relief as long as needed. "We are teaching our students about the power of giving, and coming together as a community.  Thanks for showing the world what love and compassion for mankind looks like!" stated Mr. Hughes.
November is Family Engagement month, and Walton County school district is taking time to celebrate the important role parents and families play in their child's education.  When schools work together with families to support learning, children are more motivated to succeed – not just in school, but throughout life. Schools across the district will participate in special activities to encourage connections with families during the month, as well as the entire year.  We are grateful for our school Volunteers and Mentors, and encourage you to consider sharing some of your time and talents to impact the life of a child. Especially during the difficult times following an event like Hurricane Michael, having the opportunity to lift the heart of a student by providing encouragement and inspiring confidence can be a gift never forgotten!