The World Doesn't Change That Fast
By Maurice Stouse
Looking at the market gyrations this year, retired professional investor Wally Weisenborn of Miramar Beach says that "the world doesn't change that fast." Wally served on the board of directors of the Chicago Board of Trade (CBOT) for many years. His career included leadership roles at the CBOT, but also at Harris Bank and as president of the futures division of ING. He has seen a lot in his time both in the trading pits in Chicago and as an investor.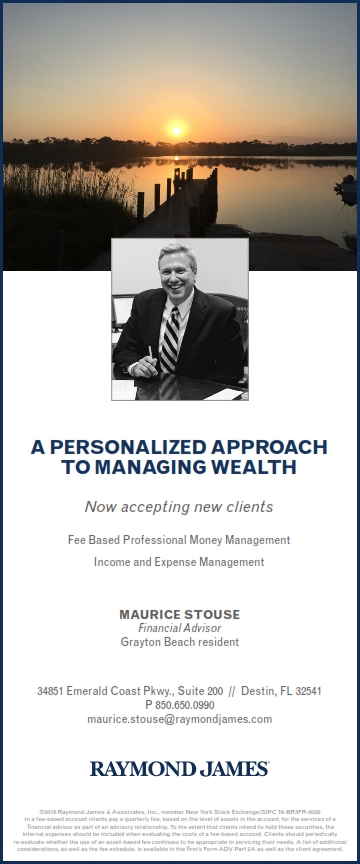 In times past, markets have reacted to changes in earnings, economic performance and outlook, interest rates, political events and the like. The changes for most investors, gradually unfolded in one direction or another. Wally goes on to say that "the way the market slams around (today) is different for individuals. Markets were more understandable when they moved slower".
I have been a witness to many of those changes in my own career in financial services. I have seen them come, like when interest rates rose in 1987 and there was broad movement by "investors" from stocks to bonds. It unfolded and was more understandable because as Wally says, they moved slower. The recessions in 1991 and 1994 had their gradual effects and the dot com bust, as it was called, unfolded a bit slower and that market downturn lasted for three years. Once things become inevitable, like the credit crisis and potential depression in 2008, stocks begin their slide and do so for a while.
The markets today involve superfast information technology and trading which can have a sudden and immediate impact to markets. Bad news on a stock or political news move markets rather quickly. Or like the "flash crash" on Feb 5th of this year when the market fell nearly 1,600 points. Wally says however that "the news is always overdone". And things that are the most marketable and have greater liquidity, like stocks and commodities, lead to big price swings.
Investors are encouraged to build a plan and overlay it with their risk tolerance and time frame. Having a plan and sticking with it, while making adjustments over time (like rebalancing and asset allocation changes) are what investors have turned to get to their goals. And, as Wally reminds us, "be more like Buffet and stay the course".
If you are an investor or making plans to do so, call or visit an advisor today to start or continue the conversation on your course for your needs and goals.
Maurice Stouse is a Financial Advisor with Raymond James and he resides in Grayton Beach.  He has been in financial services for over 31 years. His office is located at Raymond & Associates, Inc., 34851 Emerald Coast Parkway, Suite 200, Destin, FL 32451. Raymond James advisors do not offer tax advice. Please see your tax professionals. Raymond James & Associates, member New York Stock Exchange/SIPC. Phone 850.460.1995. Email: Maurice.stouse@raymondjames.com.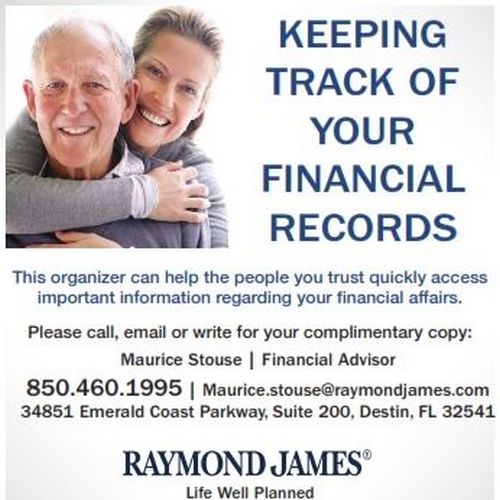 Views expressed are the current opinion of the author and are subject to change without notice. Information provided is general in nature, and is not a complete statement of all information necessary for making an investment decision, and is not a recommendation or a solicitation to buy or sell any security. Past performance is not indicative of future results. There is no assurance these trends will continue or that forecasts will occur. Investing always involves risks and you may incur a profit or a loss. No investment strategy can guarantee success.