Seaside Institute and Walton County Schools: An Alliance
By Janie Henderson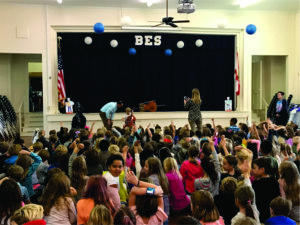 It's cliché and redundant to simply say "the children are our future." What can our communities do to put that thought into action? How do we prepare our Walton County students for a thriving future?
This past November, the Seaside Institute began a series of programs created to empower our students to explore all areas of interest. The first event was Seaside Strings, which provided a weekend of chamber music in Seaside. The event included outdoor concerts in Ruskin Park, an intimate concert at the REP Theatre with Florida State University students, and a Grand Finale concert at the Seaside Chapel with ten renown musicians from across the country.
A closer look at the festival shows a deeper purpose: show our students that playing an instrument isn't something reserved to just a class you take. Music can take you on a lifelong journey, to places you may never have visited before.
Following the festival, educational outreach programs were hosted at Bay and Butler Elementary, as well as Emerald Coast Middle School. Boyan Bonev, head musician of Seaside Strings, spoke to the students about his musical experiences. He provided a cello demonstration and even allowed all students to try out the instrument themselves.
The festival aimed to show the dynamic role that music plays in our communities. Showing our students that music can provide a deeper sense of belonging, purpose and a future that is something more than just a hobby or interest.
Fast forward to January, when the Walton County School administrators visited Seaside for a monthly principals meeting. Seaside Town Founder, Robert Davis, attended and spoke to our school leaders about the history of Seaside, as well as his appreciation for educators.
The success of Seaside is large due to its ability to provide a strong sense of community. What can we do to develop that sense of community throughout our classrooms, schools and entire district of Walton County? These are the questions we continue to ask, as we aim to support the students that make up this excellent school system.
More programs are being developed at the Seaside Institute, aiming to support our schools. Do you want to get involved? Start by signing up for a Seaside Institute Membership, and partner with us on our mission to help create great communities.
More information is on our website, www.seasideinstitute.org