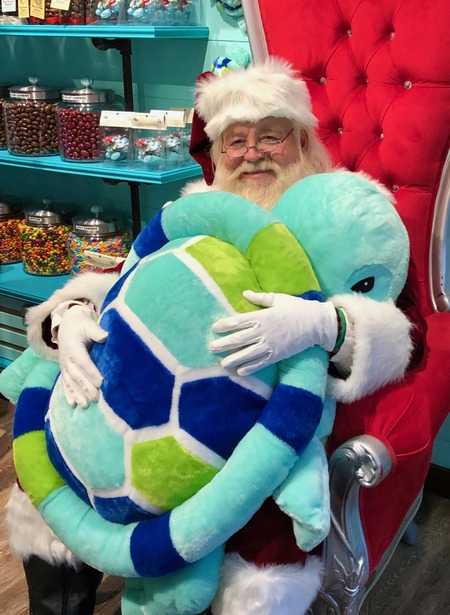 Santa at Grand Boulevard: 2-4 p.m.
Every Saturday, Santa Claus will be visiting Grand Boulevard for photos. Abrakadoodle Art Education and Parties will offer free, kid-friendly, holiday arts and crafts while waiting. 495 Grand Blvd., Miramar Beach.
Santa at Havana Beach Bar & Grill
Join Havana Beach Bar & Grill for a kid-friendly breakfast buffet, featuring the one and only Santa Claus on Dec. 15 from 8-11 a.m.! Santa will be on hand for pictures during the duration of breakfast, as well as handing out small gifts in anticipation of the upcoming Christmas holiday. The Breakfast Buffet will feature breakfast items for both children and adults. This breakfast is open to the public, but reservations are required. 63 Main St., Rosemary Beach, (850) 588-2882
Santa at Village of Baytowne Wharf; 6-8 p.m.
Each concert during the Wednesday night concert series will feature a festive choreographed light show and visits with Santa. 9300 Baytowne Wharf Blvd., Miramar Beach.
Santa at Pecan Jacks
Santa will be visiting Pecan Jacks on Dec. 14 and 21 from 12:30-3:00 p.m. Each child will receive their favorite chocolate lolly. Samples of the pralines, brittles, chocolates and ice cream will be available along with face painting and fun games for the kids on the patio. www.pecanjacks.com, 4368 W County Hwy 30A, Santa Rosa Beach, (850) 622-0011.
Santa in Seaside
Head to Lyceum Lawn for pictures with Santa each Friday, Saturday and Sunday in December before Christmas. Along with Santa, the Seaside Holiday Market will feature skating on an artificial ice rink, face painting, Christmas treats, and Holiday market vendors. The market will be open Friday and Saturday from 3 p.m. to 8 p.m. and Sunday from 3 p.m. to 7 p.m. 42 Smolian Cir., Santa Rosa Beach.
Family Friendly Events This December 
Saturdays:
Coastal White Christmas Holiday Lights
Starting Nov. 23, visit Grand Boulevard during the holiday season to enjoy decor and programming. The Town Center will feature thousands of beautiful white lights, bringing a festive and inviting spirit to the Boulevard. Open to the public at no charge. 495 Grand Blvd., Miramar Beach.
Family Challenge Saturdays at Topsail Hill Preserve State Park: 9 a.m.
Every Saturday bring the family to Topsail Hill Preserve State Park for a fun challenge you can complete together. Challenges range from geocaching, photo scavenger hunt, a beach scavenger hunt, or an art challenge! Check in at the Park Store between 9 a.m. – 2 p.m. for your family challenge packet. Upon completion, return the packet to the Park Store for your treat. 7525 W. County Hwy. 30A, Santa Rosa Beach, (850) 267-8330.
Seaside Farmer's Market at Seaside Amphitheatre: 9 a.m.
Seaside Farmers Market takes place in the Seaside Amphitheater every Saturday rain or shine 9 a.m.-12p.m.! Seaside Farmers Market is on a mission to educate the public about sustainable practices by providing a well-rounded, green living experience. Vendors offer farm fresh, locally grown produce, homemade baked goods, beef from happy cows, heirloom seeds, artisan breads and cheeses, organic eggs, preserves, and doggie treats, to name a few. 2236 E County Hwy. 30A, Seaside.
Sundays:
Sunday Funday Ranger Program at Topsail Hill Preserve State Park: 9 a.m.
Every Sunday come discover more about the park's natural and cultural history with a Park Ranger. Program begins at 9 a.m. Free with regular park admission. 7525 W. County Hwy. 30A, Santa Rosa Beach, (850) 267-8330.