Born in New England and raised in a 200-year-old saltbox home, Rosalie spent most of her summers in the '50's on Cape Cod with other vacations in an old family farmhouse on 100 acres of timberland in Maine. Blessed with an insatiable wanderlust, she traveled extensively throughout her life. She raised her son in West Palm Beach, Florida, with trips to Bahamas, South America and Europe. Rosalie moved to Arizona and fell in love with Grand Canyon. With a burning desire to capture it on canvas, she began painting by asking the Lord to "make this as beautiful as what I see."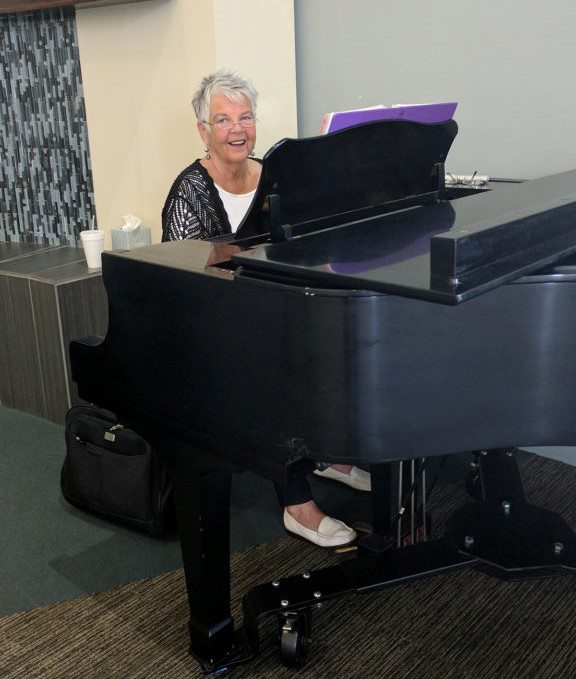 A career move to Europe in 1982 nourished her artistic nature with visits to great cathedrals and museums in nine countries and study at the Hertzfeld School of Art, Weisbaden, Germany. After returning to So. California she accepted a position covering nine western states with conventions around the country.
Upon moving to Texas in 1995 her love of the Bible and fascination with the historic turn-of-the century churches in the Hill Country led to the birth of Pyetzki Prints and production of lithographs and postcards of her layered graphite drawings. It was then she began referencing scripture on all works as her means of spreading the Word of God.
In 2003, four months after buying their retirement home in Miramar Beach, her husband Glenn went to be with the Lord. She was left with 2 mortgage payments and only 1/3 of the income. Self-taught and not very accomplished, only knowing songs her mother liked, the Lord led her to play the piano in nursing homes. She figured if she made mistakes, well, they'd be as forgiving as her Mom was! Besides….they'd forget about it as well! She ended up playing at five nursing homes every week for ten years……guess the Lord knew she'd never take lessons nor would she practice!
In 2006 she began a ministry teaching art to four home-schooled children which evolved into a home studio where she has taught over 30 students. While people all around her were losing their homes, the Lord was providing a means for her to meet her mortgage payments! In 2010 she painted all the murals at Christiano's restaurant in Santa Rosa Beach and shortly thereafter the owners asked her to play piano on Friday nights. Her new career as "pianist" began at the age of 70! She now has over 600 songs in her repertoire and in 2013 published her first CD…. Reminisce with Rosalie. She is still playing every Friday evening at Christiano's, she also plays Tues, Wed, and Thur noon in the Fireside Cafe at Destiny Worship Center, as well as old time gospel Sunday morning before both services. Monday evenings she is a regular at Superior Residence in BlueWater Bay. She is also available for private parties and keeps busy around the holidays. 850-543-3825
This fall she will be spending a month once again in Europe….Belgium, Macedonia and Greece to attend the wedding of two young people that got engaged at her home four summers ago!
Quoting her favorite scripture pretty much defines her: "I have learned to be content whatever the circumstance, I know what it is to be in need, and I know what it is to have plenty. I have learned the secret of being content in any and every situation, whether well fed or hungry, whether living in plenty or in want. I can do everything through Him who gives me strength." Phil 4:11-13