December 16, 7:30P.M. Charlie Mars with David Borne'
Charlie Mars has been a journeyman artist with major label releases and high profile gigs opening for the likes of REM, KT Tunstall, Citizen Cope, Steve Earle, among others. The Mississippi-based troubadour builds upon the distinctive musical approach first mined on his 2009 breakthrough Like A Bird, Like A Plane, employing supple grooves and delving deep within to offer insight and a path to self-awareness and ultimately transcendence via a gracefully beatific distillation of folk, rock, and smooth acoustic soul. He doggedly developed a sonic style uniquely his own, a sound informed less by traditional rock than by sinewy and soulful rhythms that seemed to bubble up from within his soul. With its sparse instrumentation and focus on transcendent grooves and ambient space, his minimalist approach to music ads maximum intensity to Mars' already powerful songwriting.  Mars will be in town performing songs from his Emerald Coast inspired album "Beach Town". Tickets $25.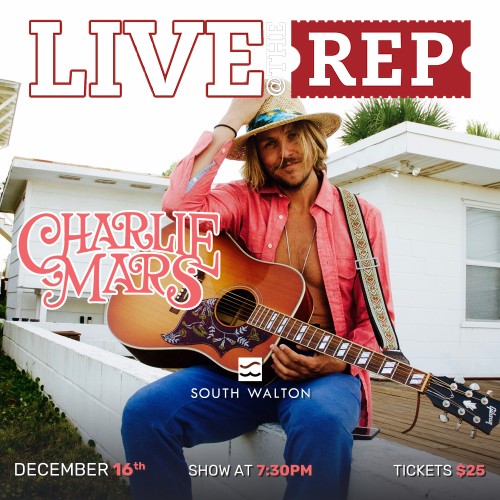 Every Christmas Story Ever Told
Back for its 9th year, The REP Theatre presents their smash-hit holiday comedy "Every Christmas Story Ever Told…And Then Some". The Panhandle's premier professional theatre reimagines the script every year, providing fresh jokes and spectacle each holiday season, making "Every Christmas Story" a show locals and visitors come back to year after year. This hilarious whirlwind of a performance tackles all of your favorite Christmas stories; while bringing in all the special holiday traditions you share with your family: watching the Macy's Thanksgiving Parade, caroling, and regifting that fruit cake…again. The delightful cast keeps the energy high and the audience laughing as they take on every "Beloved Holiday Classic." Consistent audience participation brings the entire family in on the fun. Who doesn't want to see dad play a convincing Cindy Lou-Who? Every Christmas Story provides the laughs but never strays from the heart of the holiday season, as a time when families get to spend time together. The show is family friendly, great for all ages, and absolutely hysterical! 7:30 PM & 2 PM Shows throughout the Christmas Season, beginning December 13th. Visit www.lovetherep.com for times and tickets.
Escape to Create 25th performance Season with Jacon Mason
Special Guest Artist Jacob Mason burst onto the concert piano stage at the age of 13 after winning America's triple crown of concerti prizes with Prokofiev's Piano Concerto No. 1. At 14, he won the national New World Symphony Piano Concerto Competition. With his critically praised Carnegie Hall debut in 2016, Mason's expanding repertoire and charismatic performances predict a stellar career as a soloist specializing in the most difficult classical and modern piano repertoire. Now 18, Mason will perform a virtuoso program of piano masterpieces from Brahms to Ravel to Gershwin and include works by his internationally awarded parents, Escape to Create Composers-in-Residence Dorothy Hindman and Charles Norman Mason. Tickets are $25. Visit www.LovetheREP.com for more information.