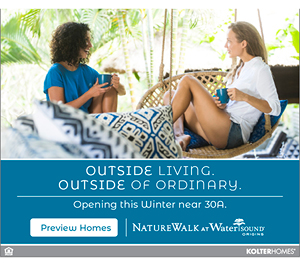 "Given the extraordinary times we are all experiencing, we are especially honored to launch a thrilling season roster filled with exciting new program offerings for theater lovers of all ages," said ECTC co-founder and producing artistic director Nathanael Fisher. "We are implementing our Safety Protocol Plan in accordance with CDC guidelines to ensure our patrons can enjoy all of our offerings in a safe environment."
Enjoy a sampling of the season and special subscription rates at Taste of the Season launch party with the ECTC tribe on Thursday, Oct. 1, 5 to 7 p.m. at ECTC's performance space located at 560 Grand Boulevard in Grand Boulevard at Sandestin. The event is free and open to the public.
The Professional Main Stage & Second Stage productions are as follows:
October 9-10, 15-16, 22-24 at 7:30 p.m.; October 18, 25 at 2 p.m.
Main Stage Production
The story of this romantic musical comedy begins when blind date newbie Aaron is set up with serial-dater Casey, a casual drink at a busy New York restaurant turns into a hilarious high-stakes dinner. Can this couple turn what could be a dating disaster into something special before the check arrives? Adaptation written by Austin Winsberg (Gossip Girl) with music and lyrics by Alan Zachary and Michael Weiner.
Cabaret on the Boulevard
October 13 at 7:30 p.m.
Second Stage Musical Revue
Mix, mingle, and enjoy live musical selections performed by our talented First Date cast. Meet the local and regional actors that grace our ECTC stage in this intimate cabaret setting. Don't miss this unforgettable limited engagement performance.
 Cabaret on the Boo-levard
October 20 at 7:30 p.m.
Second Stage: Musical Revue
Join the cast of First Date and other beloved ECTC actors for a spooky night with your favorite hair-raising Broadway show tunes. Spine-chilling selections include songs from Wicked, The Addams Family and Beetlejuice.
 The Listening Lounge
November 17 at 7:30 p.m.
Second Stage: Singer/Songwriter
Join us for a glass of wine or beer while listening to some of the best local musicians in the area. An entertaining evening of music you won't want to miss.
December 4, 5, 10-12, 17-19 at 7:30 p.m.; December 6, 13, 20 at 2 p.m.
Main Stage Production
This theatrical adaptation of Charles Dickens' spirited classic uses only five actors to bring our most beloved holiday characters to life. From Ebenezer Scrooge and Tiny Tim to Bob Cratchit and Mrs. Fezziwig, Patrick Barlow's take on A Christmas Carol uses nothing more than some simple props, fresh physicality and the power of imagination to convey this timeless story of redemption.
Christmas Cabaret on the Boulevard
December 15 at 7:30 p.m.
Second Stage: Musical Revue
Mix, mingle, and enjoy live musical selections performed by our A Christmas Carol cast. Enjoy classic holiday songs and join in some carols as well. Like a mug of hot cocoa, this one-night-only event will warm your heart and get you in the holiday spirit.
For ticket information and a full schedule, please visit www.emeraldcoasttheatre.org.