CRUST Artisan Eatery: A Small Restaurant Experience
By Sarah Stewart
When I walked into CRUST, owner Mark Fressell had already begun his day's tasks which include making a variety of pastas from scratch. His passion for Italian culinary tradition was evident as he explained each process. Today he was making an organic orecchiette (little ear) pasta without eggs. Mark explains, "In Southern Italy eggs were a luxury and so the people made pasta with water. I'm using water instead of eggs and equal proportions of all purpose organic white flour and semolina which is durum wheat with a higher protein content than regular flour. This is not a delicate pasta, it's going to have a little bite to it when you chew it. I also like to make trofie (a thin hand twisted pasta) and pici (a hand rolled thick spaghetti-like pasta)."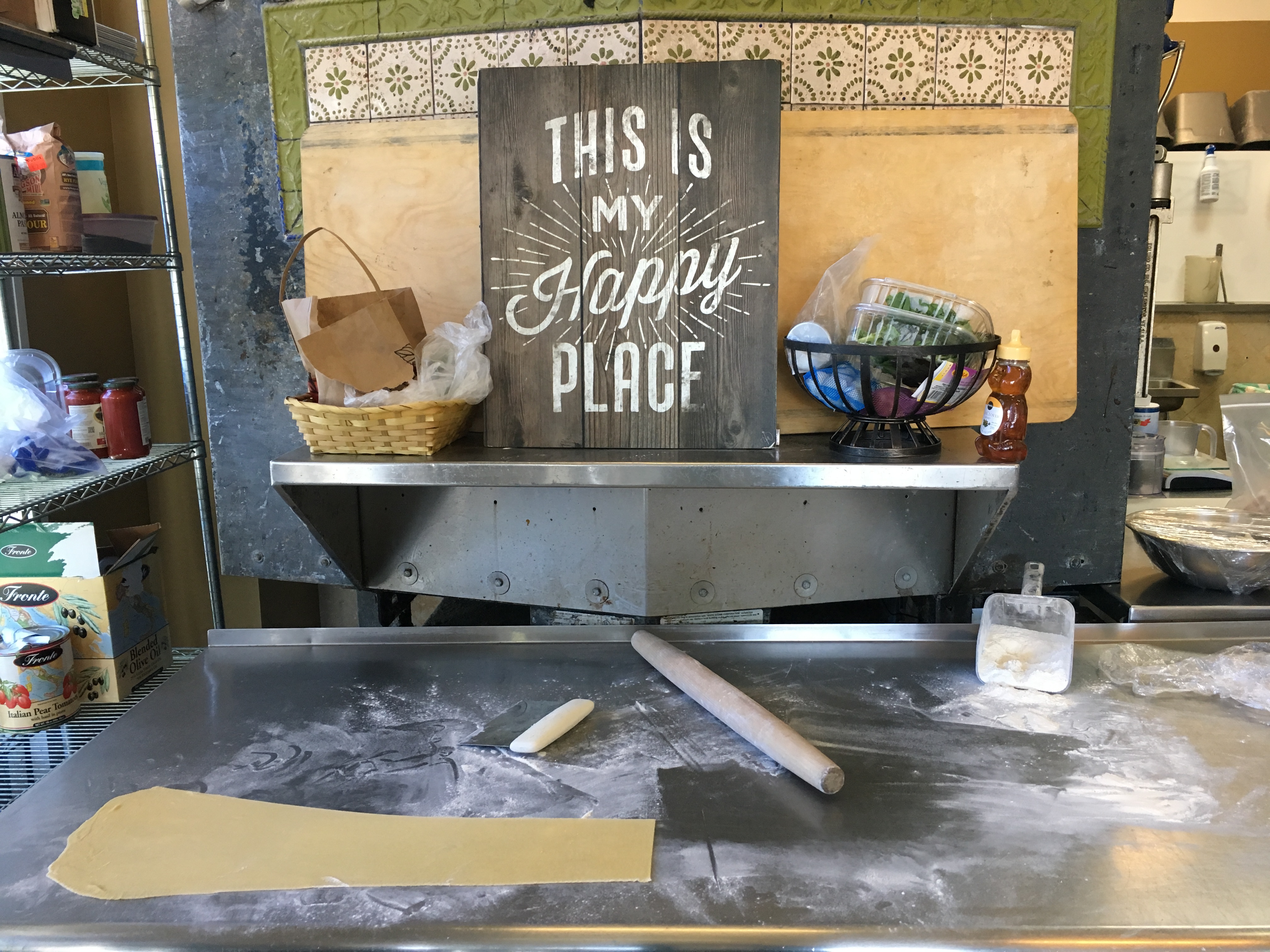 Then Mark took out another ball of dough he was working on for ravioli and explained, "This is an egg based pasta which is associated with northern Italy.  For every three cups of flour it will have five eggs in it. This pasta will be very delicate, soft and light. Each pasta has a sauce that is appropriate for it.  The sauce that I would use for this egg based pasta is totally different from one I would use for the heavier orecchiette. This is a pasta you would find in Bologna, the gastronomical center of Italy, the bread basket. This is where most of the really good northern Italian recipes come from.
What led you to open a restaurant? Did you go to culinary school?
No, I'm self taught. I'm originally from the Bronx but I worked in Atlanta as an engineer for 33 years. I was part of the system working behind a desk. I woke up one day and decided I wasn't going to work again. I reached a point in my life where I said If I'm going to do what I really want to do, what my passions are, I've got to do it now. One of the beauties of my job when I was a professional engineer is that I traveled a lot and ate in a lot of really good restaurants. For instance, Il Mulino in New York and Aqua (formerly in San Francisco).  You can tell the difference between a place where they're doing it right and a place that is looking for shortcuts. So, I bought books, I learned and I read and I practiced and when I felt like I was good enough, I hung my shingle. I moved here to Santa Rosa Beach 19 years ago. In 2010 I decided to open up a little artisan bakery and restaurant that's uncompromising in the quality of the ingredients I use and the preparation. We've defied all odds, no liquor or beer license and probably the worst restaurant location in Walton County, but we have a loyal following!
What do you think is the reason for your success?
I don't rush things, I do it right. I always tell people I worked as an engineer for 33 years, I didn't get out of that business to make bad food. If you look at Italian food recipes very few of them have more than five or six ingredients.  To make Italian food and make it well the ingredients have to be the best available. For instance parmesan reggiano cheese, (I call it the undisputed king of cheese), there's lots ways you can go with it.  You can buy domestic which is ok or you can buy 18 or 24 month aged Italian parmesan reggiano. I buy 24 month aged Italian parmesan reggiano because it's that much better, it's that good.  I'm not happy with the sausage that's commercially available so I make my own.  The reason I make my own is because I can totally control what goes in it.  I use Duroc pork. I'm unhappy with the lack of fat in the sausage you find at the grocery store. They've taken all the fat out of pork products and my opinion is, if you have a health issue, don't eat two pieces eat one, but eat the one piece that's made properly!
What's the best thing about eating in a small restaurant like CRUST?
I don't turn tables. People come here for an experience.  When people book a table with me it's normally for the whole night. I'm not rushing people out.  The food that I make is not fast food, it takes a while to make.  Some people get it and some people don't. The people who get it really like it because it's an old way of eating. You sit down, enjoy the company you're with, have a few glasses of wine, enjoy multiple courses, you take your time. Notice there is no television in here and I will not put a television in here. I'm trying to bring back the lost art of conversation.  What I'm doing right now (hand making pasta) would be impossible or impractical to do if you were serving 150-200 people a night. I'm totally happy serving 25-30 people a night. I control the quality of the food, and the pace of the courses. Some people get it some people don't.  If you want to come with a date or a group of friends, sit down and enjoy a leisurely evening then this is the place for you.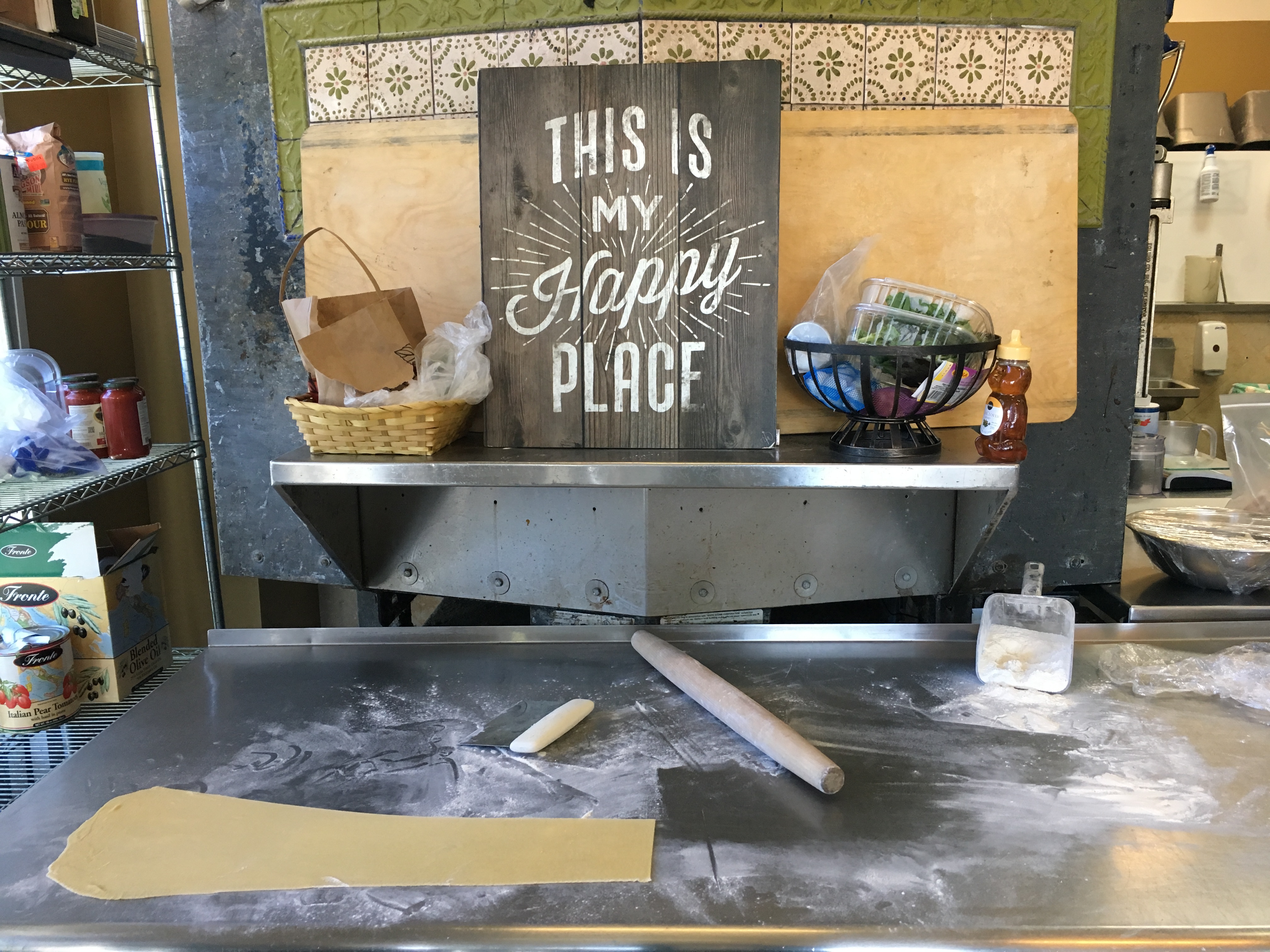 CRUST, located at 4812 US Hwy 98, (next to Copy Systems), is currently open M-Sat from 5pm-9pm.  For more information or to make reservations call (850) 622-1022. Like them on  Facebook @CRUSTartisanbakery.