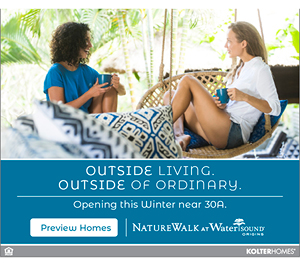 Join the Coastal Seniors of South Walton for a Presentation by Emerald Coast Theatre Company and a holiday potluck luncheon
The Coastal Seniors of South Walton (CSSW) have announced their November presentation and a pre-holiday potluck luncheon for Thursday, November 15, 2018 beginning at 11 am.  The location is 70 Logan Lane, Santa Rosa Beach, Florida.
Mr. Nathanael Fisher, Artistic Director of Emerald Coast Theatre Company (ECTC), will speak about his organization and the benefits of aging with the arts.  Please join us to learn about the ECTC programs and the proven impact the live arts has on increasing social engagement, improving emotional health and, of course, the "fun factor".
Nathanael Fisher received his B.A. in Theatre Studies from Palm Beach Atlantic University and later went on to receive his Master of Fine Arts in Acting at Regent University. Nathanael has performed on many stages and produced projects throughout Florida.
An informal, member-supported potluck luncheon and raffle will follow Mr. Fisher's presentation.  Bring your favorite dish to share with other participants while you mix and mingle with other CSSW members.
Coastal Seniors of South Walton, Inc. is a non-profit 501(c)(3) organization for active adults and is looking for dedicated, enthusiastic persons to join our Board of Directors.   You can become a member of CSSW and register for the November presentation and luncheon on Facebook at Coastal Seniors of South Walton or via email at coastalseniorsofsouthwalton@gmail.com or on the website at www.coastalseniorsofsouthwalton.org.
If you are 50+ years or older, and reside in Walton County, Florida, we invite you to join CSSW in order to participate in our activities.  There is currently no charge for membership or workshops.