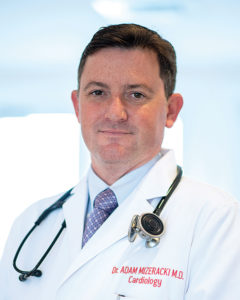 Cardiologist Adam Mizeracki, MD, has joined Ascension Medical Group Sacred Heart's regional network of doctors. Dr. Mizeracki will practice at two convenient locations: Ascension Medical Group Sacred Heart at 30A, located at 12805 US Hwy 98 East in Inlet Beach, and Bluewater Bay, located at 4586 Hwy 20 East in Niceville. Dr. Mizeracki is accepting new patients. For information or to schedule an appointment, call 850-278-3390 for Inlet Beach or (850) 278-3874 for the Niceville office.
He provides comprehensive and compassionate care to adult patients. He has a special interest in the diagnosis and treatment of heart disease. He has more than 15 year's experience in research projects in heart disease management. His work has been published in national peer-reviewed medical journals, such as the Journal of the American Medical Association. He received his medical degree from the University of Arkansas for Medical Sciences, and he completed residency and fellowship training through the University of Tennessee Health Sciences Center.
Ascension Medical Group Sacred Heart offers the largest network of primary care and specialty physicians in Northwest Florida, with more than 80 locations and 300 providers along the Gulf Coast from Gulf Shores, Ala., to Apalachicola, Fla.  To find a doctor and request an appointment, call 850-416-2337 or visit ascension.org/doctors.