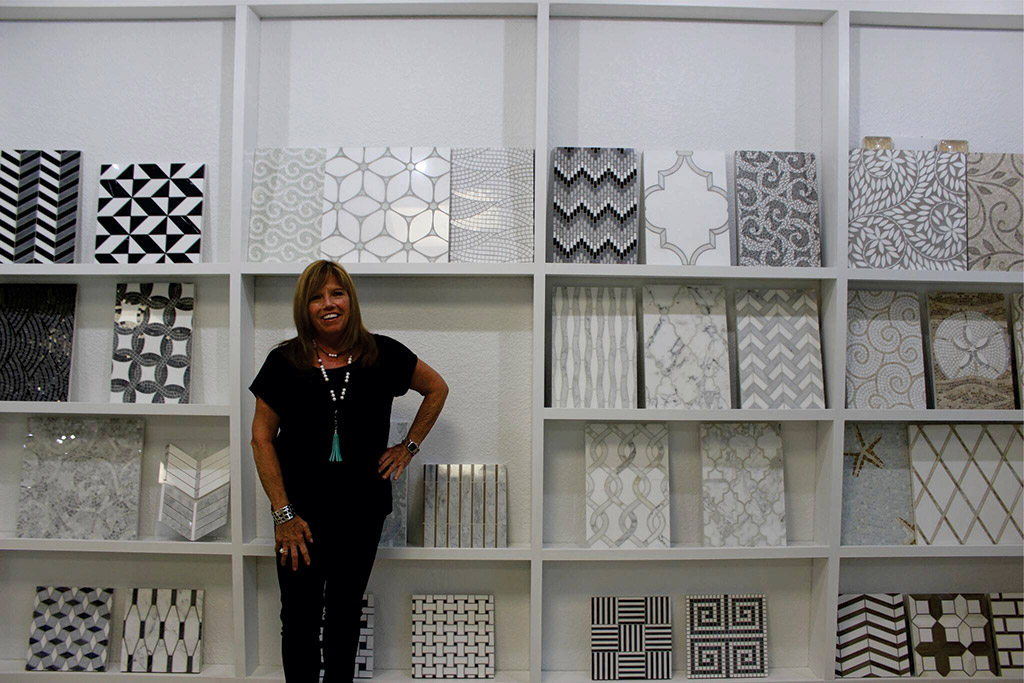 When Lonna McGrew visited Blue Mountain Beach in the fall of 2009, she says "it was love at first sight. I just fell in love with the surroundings, the beaches and especially the people. There was just a very special feeling, everyone was so kind and gentle, I knew right then I wanted to live here." Where have we heard this story before?
Though Lonna enjoyed a successful career as a tile designer in South Florida, the allure of South Walton and the desire to own her business got her to planning and dreaming of relocation. Being considered one of the top designers in South Florida, it wasn't easy to say goodbye to so many loyal customers and friends. "I was a go-to person for many in the industry-including celebrities – looking for custom tile designs for their kitchens, bathrooms, pools, hardscapes – you name it. I had a wonderful 20 year career in the Jupiter area but I was pulled."
Lonna, like so many, returned each year, falling more and more in Love. In the  summer of 2015 she saw a for sale sign in the window of 118 Spires Lane in Gulf Place. Spires Lane is the street behind the main retail spaces at gulf place, lined with a row of finely appointed retail spaces and condominiums above. The wheels began to turn and the plans to move became more serious. In the summer of 2016 she relocated to South Walton and, in November 2016, she signed the lease for the business space.  
Beach House Tile & Design opened its doors in February 2017, with a focus on custom projects from classic design to beach chic style in your home. "My specialty is personal, customer service", Lonna said.
" I like to sit with my customers and really get a sense of what they are looking for. And, as I listen I will get a vision for the customer, and then proceed with product selection and design. Having the right products, with personal service and experience is my total belief".  
The company is available for interior or exterior work, pool and decking as well as corporate projects. The showroom is filled with tiles from all over the world including porcelain, ceramics, glass, marble, onyx as well as a series of beautiful mosaics – tiles for every taste and budget.                     
If you're planning on a new project or renovation, stop by Beach House tile & Design and say hello to Lonna McGrew, one of SoWal's newest "Locals". Her decades of experience will be the difference between a simple or stunning new kitchen, bathroom or outdoor project.
Beach House tile & Design is located at  118 Spires Lane, (Behind Gulf Place) Santa Rosa Beach. Call 850-622-1986 or visit online showroom at: www.beachhousetile.com