SOMETHING ROTTEN! is "Broadway's big, fat hit!" (NY Post). Set in 1595, this hilarious smash tells the story of two brothers who set out to write the world's very first MUSICAL! It's "The Producers, Pamalot, – and The Book of Mormon – squared!" (New York Magazine).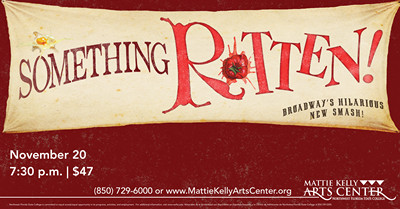 This Tony-nominated musical will come to Destin on November 20th, beginning at 7:30 P.M., At the Mattie Kelley Arts Center in Destin.
The cast is led by Matthew Baker as Shakespeare, Matthew Janisse as Nick Bottom, Greg Kalafatas as Nostradamus, Emily Kristen Morris as Bea, Mark Saunders as Brother Jeremiah, Jennifer Elizabeth Smith as Portia, and Richard Spitaletta as Nigel Bottom.
The musical comedy tells the story of brothers Nick and Nigel Bottom, two playwrights stuck in the shadow of that Renaissance rock-star William Shakespeare. When a soothsayer foretells the next big thing in theatre involves singing, dancing, and acting at the same time, the Bottom brothers set out to write the world's very first musical. Something Rotten! was directed and choreographed on Broadway by Casey Nicholaw; the tour is staged by associate director Steve Bebout. The musical has a score by Wayne Kirkpatrick and Karey Kirkpatrick with a book by Karey Kirkpatrick and John O'Farrell. For tickets visit www.MattieKellyArtsCenter.org.