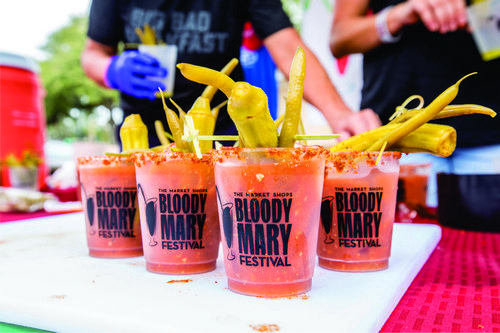 The Market Shops, located at the entrance to Sandestin Golf and Beach Resort, will host The Market Shops 4th Annual Bloody Mary Festival benefiting Habitat for Humanity of Walton County on Saturday, October 6, 2018, from 11:00 a.m. to 2:00 p.m. The fourth annual event will feature unlimited tastes of the Emerald Coast's most creative and innovative Bloody Marys made with Cathead Vodka and served by the finest restaurants and bars on the Panhandle. Tickets go on sale for $40 before the event and then $50 at the door. You also must be 21 years or older in order to attend. All of the money raised will go toward Habitat for Humanity's efforts to provide and support affordable housing in the area for those in need. They will also use the funds raised from this year's event to go towards their new home office space.
Bloody Mary Festival is a one-of-a-kind event in the area. Surrounded by the signature wine and beer festivals of Walton County, Bloody Mary Fest takes on a life of its own. Celebrating one of the most beloved brunch cocktails, the event has a unique casual and relaxed feel that is hard to find.
Apart from the Bloodys, guests are able to sit down, relax and enjoy their favorite football game as well. It's hard to plan an event on a Saturday in the south if football isn't involved. However, we make the best of it by providing multiple large screens where all the SEC games are playing. The Market Shops Bloody Mary Festival is the best tailgating party around!
During the event, guests are also invited to enjoy food from local favorites such as Back Beach Barbecue and Slick Lips Seafood & Oyster Hours as well as the various restaurants located directly in The Market Shops including Bijoux and Pizza by the Sea. Apart from the Bloody Mary's, the event will serve local craft brews from Grayton Beer Company along with champagne from the Bubbly Bar. Additional amenities for event goers to enjoy includes live music by the Luke Langford Band, a relaxing hydration and relaxation station by the Salamander Spa, a commemorative photo booth with Epic Photo Co., a cigar bar by Shore Thing Cigars, and exclusive shopping options from the merchants of The Market Shops.
A panel of select food critics and local celebrities will judge each Bloody Mary to select the winners for the most delicious and most creative. There will also be a highly coveted People's Choice Award that is selected by each guest in attendance who's votes will be tallied by Hill Coleman CPA. Each of those winners receives a custom-made award by a local artist. Every year, the winners are invited to return to the festival to reclaim their titles as fan favorite and showcase their newest Bloody Mary creation. It has become a staple event along the Emerald Coast and kicks off the fall season of festivals and we hope you can join us. Visit www.themarketshops.com to purchase your ticket to #EatDRinkBMary with us this year!